14 Dec 2018
Implantable Cardioverter Defibrillator (ICD) market expected to reach $4.3bn by 2028, says GlobalData
Posted in
Press Release
The Implantable Cardioverter defibrillator (ICD) market is expected to reach approximately $4.3bn by 2028, growing at a Compound Annual Growth Rate (CAGR) of 4.1%, according to GlobalData, a leading data and analytics company.
The company's latest report: 'Implantable Cardioverter Defibrillator (ICD) Devices – Cardiovascular Market Analysis and Forecast Model' states that Asia Pacific will be one of the fastest growing regions, growing at a CAGR of almost 5% between 2018 and 2028, with North America and Europe following closely behind. Despite dual chamber ICDs being the largest sub-segment of devices within the market, the relatively new subcutaneous (or leadless) ICDs are proving to be the ICD market with the highest growth by tackling some of the limitations from traditional devices, and is expected to grow at a CAGR of 10%.
Sheryl Tang, Medical Devices Analyst at GlobalData comments, "The main driver behind this market is the increasing population at risk of sudden cardiac arrest and the advanced technology over traditional pacemakers. ICDs can be programmed as both a defibrillator and pacemaker, and provide better patient outcomes, particularly for patients who are at high-risk for sudden cardiac arrest."
Barriers to the growth of the ICD market include post-surgical complications and the alternative option of cardiac resynchronization therapy (CRT) devices, which offer lower mortality and morbidity rates. However, barriers to growth can potentially be mitigated through the development of subcutaneous and leadless ICDs.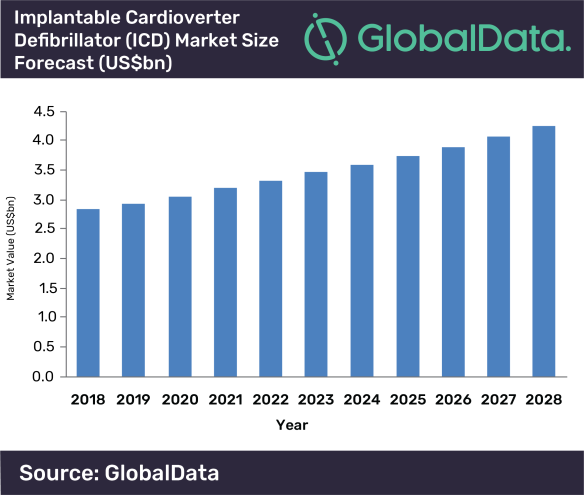 IMAGE FOR PUBLICATION: Please click here for enlarged chart
Tang concludes, "Overall, the ICD market is expected to grow at a relatively stable CAGR of 4.1% over the next 10 years. While the traditional single and dual-chamber ICD market is stable from population growth, the new market segment of subcutaneous and leadless ICDs will be the main driver of growth in this market. With only one player currently in the market and potential for high growth, GlobalData expects that many companies will be looking to enter this market in the near future."
Information based on GlobalData's report: Implantable Cardioverter Defibrillator (ICD) Devices – Cardiovascular Market Analysis and Forecast Model, 2015-2028