19 Jun 2020
Increase in consumer confidence could lead to a spike in UK domestic tourism
Posted in
Travel & Tourism
As lockdown is gradually eased, UK residents have a more positive view of the coronavirus situation compared to ten weeks ago, according to GlobalData's COVID-19 Consumer Survey.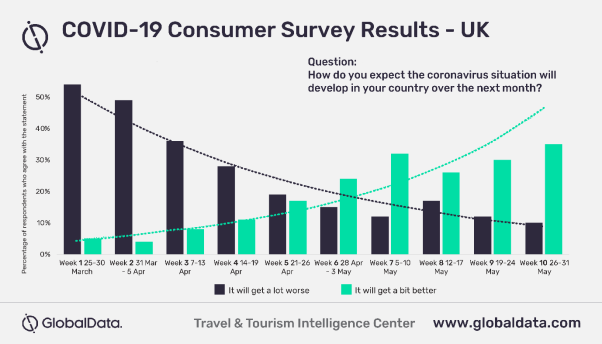 The number of people saying they felt the situation would get a lot worse in the UK was 44% lower in week ten compared to week one. Conversely, 30% more thought that the situation would get a bit better in week ten compared to week one. This increase in consumer positivity can be attributed to a recent partial lifting of restrictions.
Rheanna Norris, Travel & Tourism Analyst at GlobalData, comments: "A reduction in restrictions has allowed Britons to think to the future and start to plan life after lockdown. After working from home for many months with limited interaction with the outside world, once recent frequent travelers will be itching to find their next holiday destination. A gradual lifting of restrictions may allow for some of the summer holidays to be taken advantage of."
According to a recent GlobalData survey, 79% of respondents in the UK are trusting of products from their home country. Combined with a more positive view of the coronavirus situation, this suggests a rise in domestic tourism is to be expected for the late summer months.
Rheanna Norris continues: "Planning a holiday within the UK will be a safer and more secure option for recession-hit budgets. As they are accessible by own transport methods, bookings will be protected as state borders are likely to open before international ones, and no doubt upon travel and medical insurance for UK visits will lead to Brits taking advantage of the summer weather whilst they can.
"This will be well needed for British holiday resorts, which have seen a complete wipeout of bookings during the coronavirus pandemic. As the situation in the UK improves from a consumer's perspective, bookings will resume and hope to save local tourist destinations from disaster."