25 Nov 2019
Increasing the share of renewable generation in Croatia will drive attainable energy supply security
Posted in
Power
Croatia's enormous renewable energy potential has prompted the government to increase the share of renewable energy in its total energy consumption to 36.4% by 2030. Therefore, renewable power capacity (excluding small hydropower) in the country is expected to reach 1.9 gigawatts (GW) by 2030, according to GlobalData, a leading data and analytics company.
GlobalData's latest report, 'Croatia Power Market Outlook to 2030, Update 2019 – Market Trends, Regulations, and Competitive Landscape, reveals that the increase in renewable capacity from just over 1% in 2008 to around 17% in 2018 can be attributed to revised targets under National Renewable Energy Action Plan (NREAP), guaranteed feed-in-tariffs, and premium tariff support schemes.
Utsha Ghosh, Power Industry Analyst at GlobalData, commented: "Croatia's large-scale untapped renewable sector, with around 8-9 GW potential for wind and solar, has opened new opportunities for market players. The south-western region of Croatia receives a good amount of solar irradiation. Furthermore, the prominent wind resources in the south, south-west coastal region comprise significant wind potential to meet the country's renewable energy target. The country also has huge potential for geothermal energy in the Northern part of the country, which could be used both for electricity generation and heating."
Croatia had 625 MW of wind capacity in 2018. Wind power will witness maximum growth among renewable during 2019 and 2030 and is expected to reach 1.4 GW, while solar PV capacity is expected to reach 280 megawatt (MW) in 2030 from 61 MW in 2018 increasing at a compound annual growth rate (CAGR) of 15%. The biopower segment is expected to increase at a CAGR of 8% to reach 212 MW by 2030.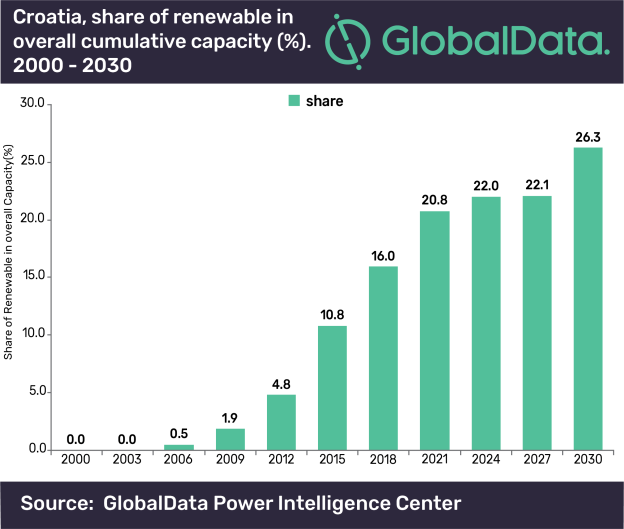 Image for publication: Please click here
Croatia is not rich in fossil fuel reserves and imports the majority of the hydrocarbon resources for its fuel requirement. An increasing share of renewable power in the electricity mix will drive the country to attain supply security by reducing its share of electricity imports from the current 62.5% of the total country's consumption to 44% by 2030.
Ghosh concludes: "Renewable energy and distributed energy resources have changed the market dynamics of the electricity system in the country. The falling cost of renewable energy installations and the introduction of strong policies to cut down pollution level have led the policy makers to focus more on this.
"Croatian state utility HEP is also planning to boost its renewable power capacity by 50% from the current capacity. Besides renewable, the government is encouraging investments in combined heat and power (CHP) plants to increase fuel efficiency, reduce pollution, energy variable cost and wastage."