05 Mar 2019
Italian exploration licensing ban risks endangering significant oil and gas sector, says GlobalData
Posted in
Press Release
Italy's new law blocking the award of new prospecting and exploratory permits for 18 months will have a significant effect on the future of Italy's hydrocarbons industry. The exploration plans of some companies may be negatively affected, and these companies may decide to launch legal action, says GlobalData, a leading data and analytics company.
Italy's February 2019 law suspends the award of new oil and gas concessions in Italy for 18 months until the government has evaluated the suitability of the areas for petroleum operations. However, the legislative decree does not affect producing concessions or concessions that are in the awarding phase.
Alessandro Bacci, Oil and Gas Analyst at GlobalData, comments, "Other countries across the world have banned or proposed banning hydrocarbons new exploration in recent years, but for many of them, the ban is more a cosmetic change than a real economic game changer. For example, France's and Belize's hydrocarbons production has always been negligible. New Zealand's ban and Denmark's proposed ban exclude the key areas of their upstream sectors ─ the North Sea for Denmark and the Taranaki area for New Zealand."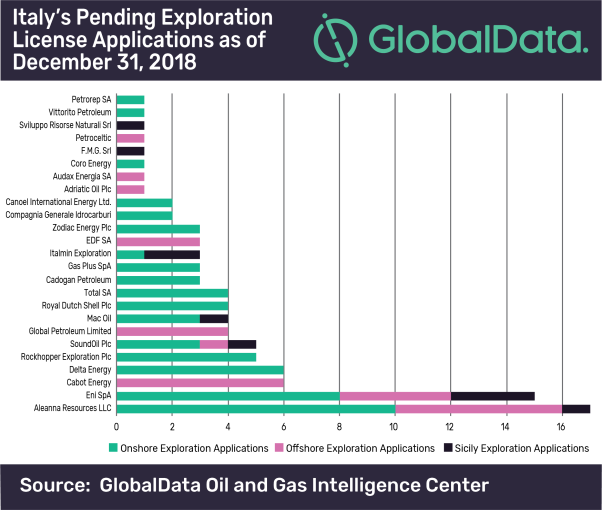 IMAGE FOR PUBLICATION: Please click here for chart
GlobalData's analysis shows that Italy is a small hydrocarbons producer with 184,000 boed, which covers 10% of oil and 8% of gas domestic consumption respectively, but Italy's oil and gas sector attracts major E&P companies and has an important service sector operating on a global scale. So, the new legislative decree may halt the development of the sector in relation to both the domestic and the international activities. As a result, it is probable that the companies affected by the new regulation may decide to launch legal actions to obtain compensation from the state.
Bacci adds: "As most of the companies investing in Italy are European, the recent Achmea case suggests that EU law will protect Italy against investor-state arbitration clauses present in bilateral investment treaties between member countries. However, the affected companies may still lodge lawsuits on the basis of the Italian/EU laws."