22 Apr, 2022

Business sentiment for NFTs increased in Q4 2021 and Q1 2022 in earnings call transcripts as firms continue to explore investment opportunities, finds GlobalData

Posted in

Business Fundamentals
Business sentiment for non-fungible tokens (NFTs) was sky-high in Q4 2021 and Q1 2022 in earnings call transcripts compared to previous quarters, with sentiment score reaching 1.0*, finds GlobalData. The leading data and analytics company notes that, despite discussions in Q1 2022 being slightly below Q4 2021, firms are continuing to explore NFT investment, launches and innovations.
GlobalData's latest report, 'Company Filings Analytics Trends & Signals Q1 2022', reveals that mentions of NFTs declined by around 2% in Q1 2022 compared to Q4 2021, while sentiment rose 5%.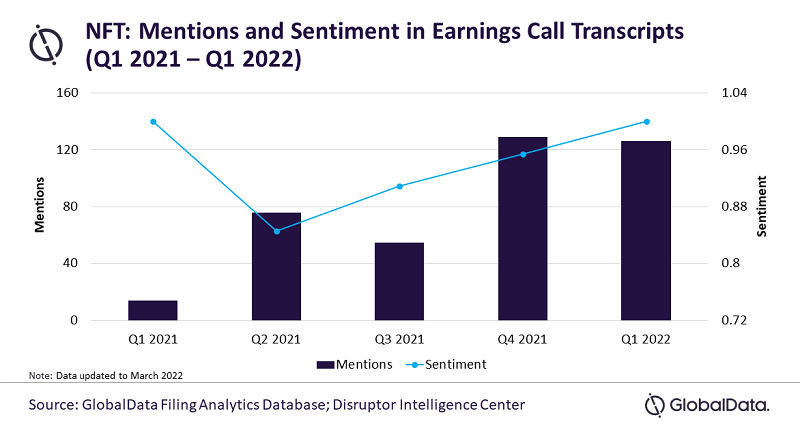 Rinaldo Pereira, Business Fundamentals Analyst at GlobalData, comments: "Technology and retail companies accounted for nearly 40% of NFT mentions in Q1 2022. Firms are seeking to unlock the potential of NFTs, with keywords including 'Invest', 'Investing' and 'Invested' showcasing their interest in the technology."
'Revenue' also appears as a keyword around NFTs, with discussions focusing on profiting from the continued hype. The keyword 'Partnership' appeared in NFT discussions on Q1 2022 earnings calls, indicating that companies consider partnerships as the way forward to launch NFTs.
Enthusiast Gaming, a video-game-based entertainment company, discussed exploring NFT opportunities last year and partnered with Fractal, a gaming NFT marketplace, in March 2022. With this partnership, the company will launch EV.IO NFTs and could potentially engage in similar partnerships with different verticals.
Amrit Dhami, Associate Analyst in the Thematic Research Team at GlobalData, adds: "Social media has played an important role in propagating the hype around NFT communities by offering a platform for members to flaunt their expensive digital assets. This has started to make NFTs a more mainstream and desirable concept. Meta's announcement that NFTs were coming to Instagram renewed the excitement and injected longevity into the concept of NFTs."
GameStop also announced the launch of an NFT platform which is likely to happen later this year. The company entered partnerships with Immutable X and Digital Worlds NFTs. Gap also launched its first collection of NFTs, intending to enhance its brand visibility.
* GlobalData uses an advanced machine learning algorithm to calculate sentiment in a range of 0 to 1, with 1 being the most positive.