26 Oct 2020
Contract manufacturing organizations slow revenue growth in 2020 could impact the US
Posted in
Pharma
Dose contract manufacturing organizations (CMO) contract revenue in 2019 only grew 3.1% compared to 2018 revenue, which is one of the lowest rates since 2012, says GlobalData, a leading data and analytics company.
Adam Bradbury, Pharma Analyst at GlobalData, comments: "The dose CMO industry's revenue growth has slowed this year and continues to grow at a reduced rate compared to the active pharmaceutical ingredient (API) small molecule and API large molecule segments. API manufacturers begin to benefit from drug development at its earliest stages, with some clinical trials using solely APIs instead of formulated clinical supplies during early Phase I trials."
The US has the highest number of CMO facilities, with 188 facilities, and could be more impacted by this slow revenue growth than other countries. The 5EU* and India form the other six countries with the most commercial dose facilities. The US also has 123 solid dose, 65 injectable, and 64 non-sterile semi-solid and liquid dose manufacturing facilities, the largest number of sites for these individual dosage forms.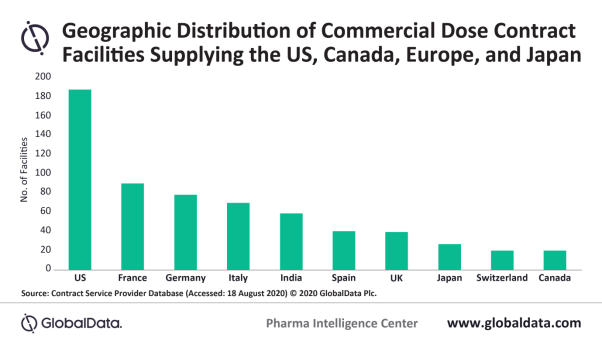 Bradbury continues: "India's place as one of the top five countries for dose facilities is impressive and shows the location's appeal for CMO manufacturing, because there are also many Indian CMOs that only supply domestic drug companies and do not have approvals to supply to the US, Europe, and Japan – a requirement of being a part of the dose CMO universe.
"Despite India's large influence on drug production, there have been notable supply chain disruption this year. In March 2020, the Indian government restricted the export of 26 APIs and finished dose drugs made with those APIs in response to COVID-19. Johnson & Johnson's Tylenol (acetaminophen/paracetamol) is among the drugs whose supply chain was affected, although these restrictions were later reversed."
*5EU = France, Germany, Italy, Spain, and the UK