01 Oct 2020
European dose manufacturing site purchases driven by solid dose's low profitability
Posted in
Pharma
Three-fourths of dose manufacturing facilities acquired by dedicated CMOs in 2019 were located in Europe, according to an analysis of sites supplying the US, Canada, Europe, or Japan, says GlobalData, a leading data and analytics company.
Adam Bradbury, Pharma Analyst at GlobalData, comments: "While European commercial dose facilities have been popular acquisitions for some time, the recent volume of deals is unusual. In 2019, 11 European dose manufacturing facilities were sold, which is roughly double the usual annual number. French and Italian manufacturing facilities accounted for almost half of acquired dose sites worldwide in 2019."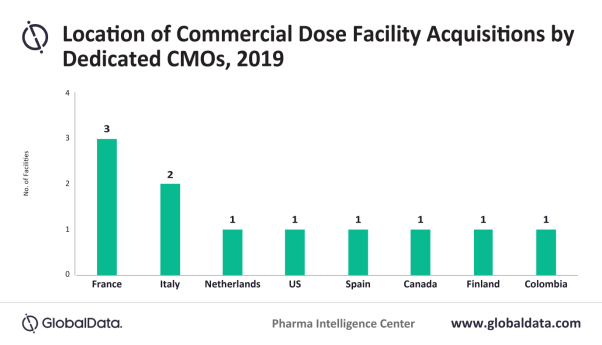 The unusually large number of sales was precipitated by Famar's parent company, the Marinopoulos Group, running into financial problems in previous years and completing a $198m debt restructuring. Many of the facilities sold by Famar were solid dose manufacturing sites, perhaps because solid dose has become commoditized and is far less profitable than other dosage forms, such as injectables.
Bradbury concludes: "It remains to be seen whether the trend for acquiring European facilities will continue given the complexity and costs of running a site while following COVID-19-related regulations in the region. A total of 77% of marketed drugs have a solid dose form and 97% of marketed drugs are small molecules."