19 Dec, 2019

Ground-breaking report sheds new light on UK's best performing shopping centres

Posted in

Retail
Westfield's two London centres – Westfield London and Westfield Stratford City – have retained the top two spots
intu boasts the most centres in the top 20, with nine centres within intu's portfolio
intu Watford is the biggest riser in this year's rankings versus 2018
GlobalData's newly released Top 50 Shopping Centres Report 2019 – an update on GlobalData's inaugural 2018 rankings report – is unique in taking into account the requirements of both tenants and shoppers, to provide a comprehensive and balanced view on the UK's top shopping centres. Through a combination of primary consumer and B2B research, the ranking provides a 360⁰view on the UK's leading shopping centres, underpinned by data from landlords, property experts and, most importantly, shoppers.
The rankings reveal that Westfield's two London centres – Westfield London and Westfield Stratford City – have retained the top two spots, with Bluewater shopping centre, in Kent, in third position. Outside of the South East of England, the rest of the top 20 is primarily composed of regional stalwarts such as Meadowhall, intu Metrocentre and intu Trafford centre.
The report also offers an insight into the UK's top shopping centre operators, with intu boasting the most centres in the top 20, with nine centres. intu's portfolio includes key, landmark, regional shopping centres, such as intu Trafford Centre and intu Metrocentre.
Joseph Robinson, Retail Consulting Director at GlobalData, comments: "GlobalData's 2019 ranking highlights the continued outperformance of Westfield's London centres. However, overall the top 20 list paints a picture of excellent shopping centre provision throughout the UK."
There is strong representation from outside of London, including three centres in the North West (intu Trafford Centre, Manchester Arndale and Liverpool One) plus intu Metrocentre in the North East, St. Davids, Cardiff in Wales, Meadowhall in Yorkshire, intu Merry Hill in the West Midlands, two centres in Scotland (intu Braehead and East Kilbride) and The Mall at Cribbs Causeway in the South West, with virtually all regions of Britain boasting excellent shopping centre provision.
Of the main risers in the Top 50 Shopping Centres rankings this year, intu Watford (+10 places), Westgate Oxford (+8 places) and The Lexicon Bracknell (+8 places) have seen the most significant improvement. Of these, intu Watford has benefitted from a £180m investment program, which has boosted the choice of food outlets and leisure offer, in addition to facilitating a rise in the breadth of retailers present.
IMAGE FOR PUBLICATION: Please click link for table: 'Top 50 UK Shopping Centres Report, 2019'
Alongside traditional metrics such as turnover and footfall, the new rankings also take into account future potential, provision of retail, food service and leisure facilities and, crucially, the views of the shoppers who have visited them.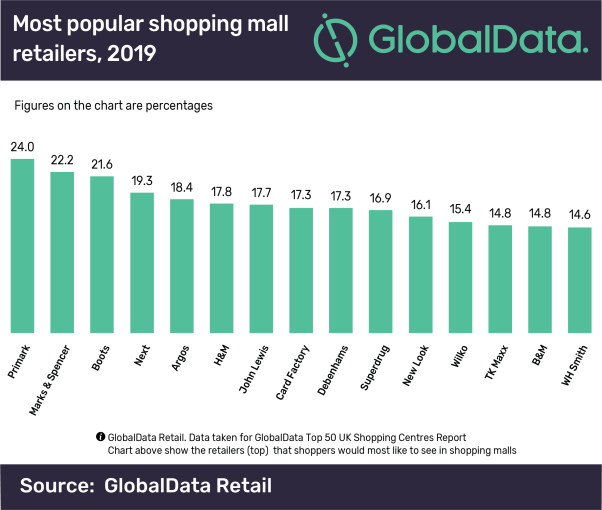 IMAGE FOR PUBLICATION: Please click link for table: 'Top 50 UK Shopping Centres Report, 2019'
According to GlobalData's primary consumer research, the prime reason for visiting shopping centres remains the diversity of retailers and products on offer. This is evident in the key aspects shoppers consider when deciding which shopping centre to visit, with 55.6% mentioning the presence of their favourite retailers and 56.1% mentioning lots of different retailers to visit.
Robinson continued: "Our research found that retail is still the most important consideration for shoppers with the most sought after retailer in shopping centres being Primark."
Shoppers have come to expect a value retailer presence in shopping centres with Primark often now an anchor store, as a result of consumer demand for its huge, low priced product range. Primark has opened locations in Bluewater shopping centre and is set to anchor the Barton Square development at intu Trafford Centre when it opens in Spring 2020, demonstrating the demand for value players. Similarly, H&M has upscaled many of its shopping centre stores, to create space for a wider product offer including its trend-focused homewares.
Food and leisure options continue to be a key factor in where consumers decide to shop – 83.1% of shoppers undertook leisure activities while visiting a shopping centre in 2019, up 2.5ppts on 2018 and almost a quarter of all consumers visit for the purpose of eating out or using the leisure facilities.
Robinson observed: "Over one third of shoppers (36.6%) visit shopping centres at least twice a month with the average shopper making 17.3 trips a year – up from 15.9 in 2018. And confounding today's modern myth that young people don't like to visit physical shops, the research shows that under 35's remain the most frequent visitors.
"As retail spend continues to shift online, shopping centres play an important role in facilitating the multichannel shopping journey with the proportion of shoppers visiting in order to return or collect an online order, rising on 2018."
Information based on: GlobalData's Top 50 Shopping Centres Report 2019