26 Nov 2020
Mentions of 'omnichannel' in earnings transcripts up 38% in 2020, as consumer companies capitalize on D2C boom
Posted in
Consumer
The COVID-19 pandemic has impacted customer behavior, bringing about significant changes in the supply chain for consumer companies. Mentions of 'omnichannel' and related keywords saw a 38% rise in 2020*, according to the GlobalData Company Filings Analytics platform, which heralds the direct-to-consumer (D2C) focus of several brands in the 'new normal', says GlobalData, a leading data and analytics company.
Rinaldo Pereira, Senior Business Fundamentals Analyst at GlobalData, says: "Despite many countries allowing physical stores to open, GlobalData's COVID-19 tracker, published on 10 November, found that 45% of respondents were continuing to shop online rather than visit a store. With shopping for festivities shifting to the online space, consumer companies with D2C websites are expected to capitalize on the boom by eliminating the need for third-party e-retailers. In May 2020, PepsiCo launched two websites to meet the rapidly growing demand for shoppers at home.
"Coca-Cola also anticipates a continued uptick in D2C demand for its products. The filings tool identified that 'At-home channels' was among the top keywords used in Coca-Cola's 2020 earnings transcripts."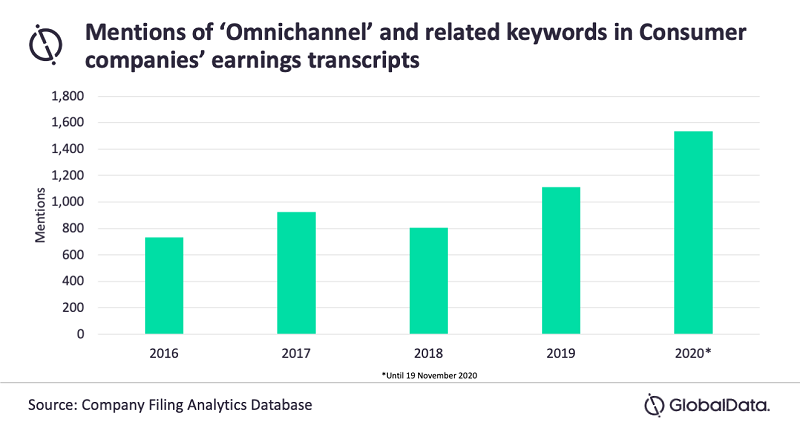 Procter & Gamble (P&G) witnessed rapid digital sales growth (over 50% e-commerce growth in Q3 2020), with the skyrocketing household essentials demand. Nestle is also eyeing further D2C growth as the company recently acquired Freshly and Mindful Chef to meet the rise in healthy eating at home.