20 Mar 2019
Political uncertainties hover on Ukraine's gas investment drive, says GlobalData
Posted in
Press Release
Ukraine is organizing a series of licensing rounds for 2019 with the goal of increasing its gas production, but the political risks linked to the imminent presidential elections raise the possibility of further fiscal and regulatory changes and may reduce the attractiveness for international oil companies, says GlobalData, a leading data and analytics company.
The company's 'Ukraine Upstream Fiscal and Regulatory Report – Improved Fiscal Terms but Possible Political Risks', analyzes Ukraine's 2019 three online concession tenders and PSA tender, through which the country is offering in total 42 onshore blocks (20,000 sq. km). The first online concession tender was concluded on March 6 with the assignment of three blocks to Neftegazopromyshlennaya Geology LLC (Burisma Group), DTEK Naftogaz, and Ukrgazdobycha.
Alessandro Bacci, Oil and Gas Analyst at GlobalData, comments, "As a result of low natural gas royalty rates, fixed at 12% and 6% for new gas wells at reservoir depth of less than and more than 5,000 meters respectively, Ukraine's gas fiscal framework is competitive at a regional level. However, no international oil company is among the winners of the first concession tender at a time when Ukraine needs capital and technology to develop its hydrocarbons sector."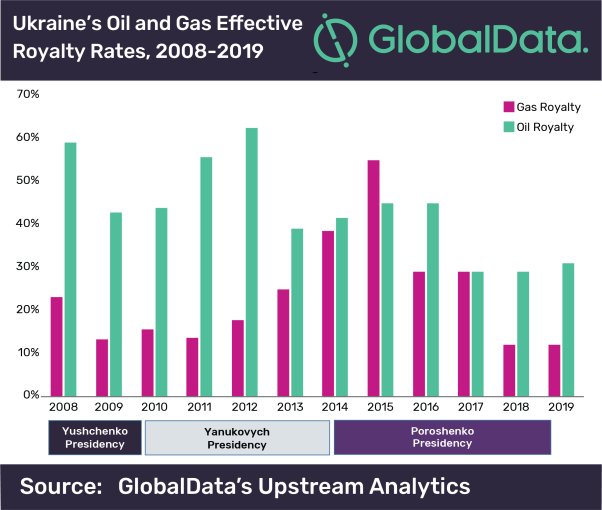 IMAGE FOR PUBLICATION: Please click here for chart
GlobalData's analysis shows that Ukraine has modified its petroleum fiscal framework several times over the last 10 years and that, as a result of economic and political reasons, it is possible that it may change again in the coming years. The current government has promised that the existing royalty structure will be stable until 2023, but the March 2019 presidential elections add risk. President Petro Poroshenko, who has pursued an investor-friendly approach to the hydrocarbons sector, faces strong competition from former Prime Minister Yulia Tymoshenko and the anti-elite presidential candidate, comedian Volodymyr Zelensky.  
Bacci adds: "Election polls suggest that no candidate will win the presidency on the first ballot and the overall result remains difficult to predict. The continuity of policy in the oil and gas sector is, therefore, far from clear as it is uncertain whether the next president will implement a liberalization agenda as suggested by the International Monetary Fund or introduce a populist agenda centered on reducing utility prices for households and increasing public spending."