07 Dec 2020
Rheumatoid arthritis burden to increase by 10.6% over the next decade in the 8MM
Posted in
Pharma
The diagnosed prevalent cases of rheumatoid arthritis (RA) in the eight major markets (*8MM) is expected to increase from 4.6 million cases in 2019 to 5.1 million in 2029, at an annual growth rate (AGR) of 1.06%, according to GlobalData, a leading data and analytics company.
The company's latest report, 'Rheumatoid Arthritis – Epidemiology Forecast to 2029', reveals that the US is expected to have the highest number of diagnosed prevalent cases in the 8MM with 1.6 million cases, followed by Japan with 1.1 million. Australia, with the lowest, will have 97,000. In the *5EU there were 1.9 million cases in 2019.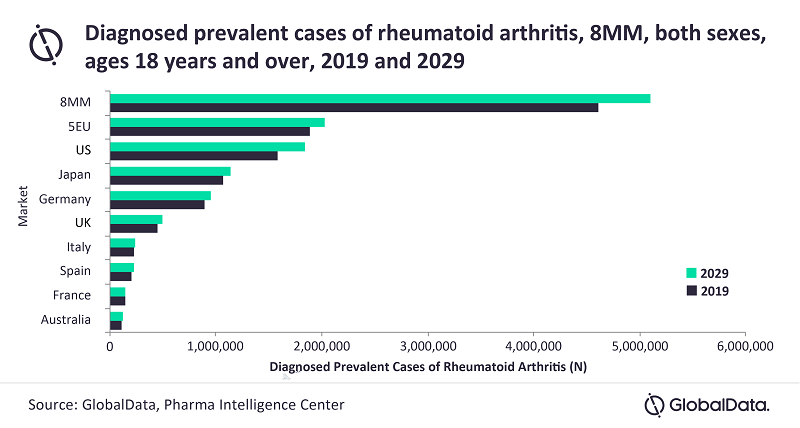 Bharti Prabhakar, Senior Epidemiologist at GlobalData, says: "Changes in the diagnosed prevalent cases of RA in the 8MM can be attributed to changes in the underlying population demographics, as well as changes in the diagnosed prevalence of RA in the US, Germany and the UK from 2019 to 2029. GlobalData epidemiologists held the prevalence in the other markets constant during the forecast period."
The risk of RA in individuals increases with age and the incidence and prevalence of RA in the elderly was found to be consistently higher than in younger adult populations. With the increasing aging population worldwide, the number of prevalent cases of RA is expected to rise in the near future, which will burden already strained healthcare systems.
Bharti adds: "The highly morbid and debilitating nature of RA, coupled with its poor prognosis, poses substantial socioeconomic consequences for patients. RA patients are not just burdened with medical costs, but also suffer from significant productivity losses. The diagnosis of RA can be difficult in its early stages because the early signs and symptoms are similar to those of many other diseases.
"The consequent delay in diagnosis and the resulting absence of treatment leads to articular damages and bone erosion particularly within the first two years of disease onset. Therefore, given the peculiarities of RA, such as its unpreventable nature and its varying natural history with age and sex, as well as the increasing aging population worldwide, it is imperative for researchers to gain a better understanding of the aetiology of RA, which will provide insight into disease prevention."
*8MM = The US, 5EU (France, Germany, Italy, Spain, UK), Japan and Australia