The size of the seasonal influenza vaccine market across the eight major markets (8MM*) will increase from $4.6bn in 2018 to $6.5bn in 2028 at a modest compound annual growth rate (CAGR) of 3.7%. A transition from egg-based towards cell-based, recombinant and universal influenza vaccines to provide stronger protection against seasonal influenza infections will drive this growth over the next ten years, according to GlobalData, a leading data and analytics company.
The seasonal influenza vaccine's late-stage pipeline is heavily weighted towards cell culture-based and recombinant influenza vaccines, which will take a combined 38% share of the 8MM and sales of $2.5bn by 2028, stealing market share from inactivated trivalent and quadrivalent egg-based influenza vaccines.
The company's latest report, 'Seasonal Influenza: Global Drug Forecast and Market Analysis to 2028', finds that the launch of new, more expensive, but potentially more efficacious vaccines is the main driver of growth, while low, stagnating vaccination rates – especially in the 5EU* and Japan – are major barriers.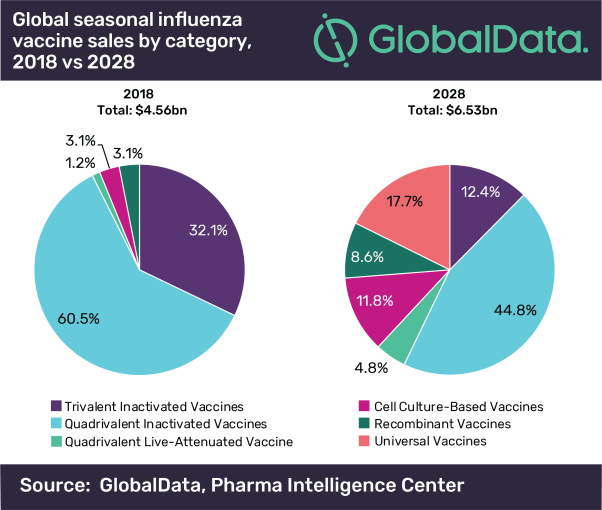 Philipp Rosenbaum, PhD, Pharma Analyst at GlobalData, explains: "Seqirus' cell-based Flucelvax quadrivalent and Sanofi's recombinant vaccine Flublok quadrivalent will experience strong growth, driven by launches in the 5EU and Brazil. The growth combined with the approval of Medicago's virus-like particle (VLP) vaccine MDG-2271 quadrivalent and Novavax's Nanoflu quadrivalent, as well as universal influenza vaccines from Biondvax, FluGen, and Imutex will drive the growth in the 8MM during the forecast period."
Key Opinion Leaders (KOLs) interviewed by GlobalData stated that vaccine efficacy is one of the major unmet needs in the seasonal influenza market, alongside low vaccination rates. The launch of next-generation, universal, cell-based and recombinant influenza vaccines will address this unmet need, while concurrently providing a platform to address environmental needs, such as vaccine hesitancy.
GlobalData's report finds that seasonal influenza vaccination rates differ widely between the 8MM, for example 83% for children in Brazil and 2% in Germany. Due to small seasonal changes in Brazil, the influenza season can start before vaccination begins, thus this market may be particularly receptive to universal influenza vaccines promising protection against multiple strains over multiple influenza seasons.
Rosenbaum adds: "GlobalData's primary research identified diverging opinions about the launch window and scope of universal influenza vaccines. While some experts expect universal influenza vaccines on the market within five years, others pointed out that clinical trials necessary to prove long-term influenza virus protection will take much longer.
"Experts also emphasized potential trade-offs between broader strain and long-term influenza protection, suggesting that universal influenza vaccines might rather supplement traditional influenza vaccination than replace it."
*8MM = The US, Germany, France, Italy, Spain, the UK, Japan and Brazil.
*5EU = Germany, France, Italy, Spain and the UK