02 Jun 2020
Six medical marijuana clinical trials have been disrupted by COVID-19, says GlobalData
Posted in
Pharma
As of May 2020, six clinical trials for investigational medical marijuana products have been suspended as a result of COVID-19. Four of these trials had not started yet, with their initiation dates suspended. The primary reasons for disruptions are delayed initiation and delayed enrollment or recruitment due to the social distancing and lockdown measures.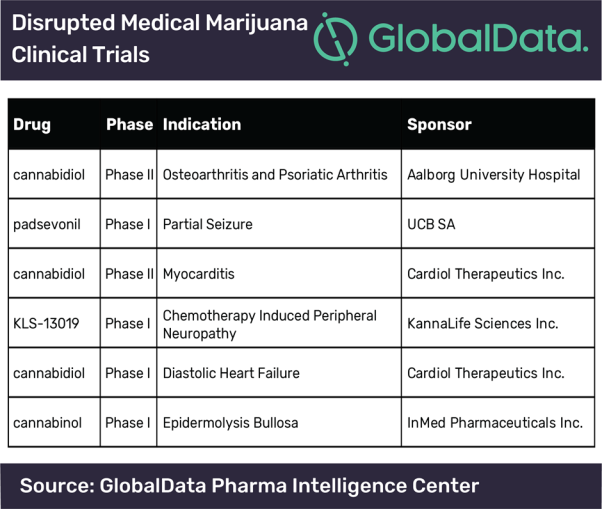 Johanna Swanson, Product Manager at GlobalData, comments: "Since early March, hundreds of clinical trial sponsors, collaborators, or contract research organizations (CROs) have announced disruptions to planned and ongoing clinical trials due to COVID-19. Using GlobalData's Clinical Trials Database, it was seen that the vast majority of these trials (~70%) were being disrupted due to a suspension of enrollment. Other reasons include slow enrollment or delayed initiation.
"Once lockdown measures start to ease, recruitment for these trials should be able to resume. If the measures do not change in the near future, companies should start to look at alternatives such as virtual or decentralized trials, if regulations allow."
The need for medicinal marijuana products may also increase due to heightened anxiety and stress. COVID 19 has placed enormous strain on the mental health of the general public. The crisis is causing heightened anxiety and stress, with people feeling vulnerable and struggling with worries about contracting the virus, job losses and pay cuts, on top of juggling childcare, work, isolation, and general uncertainty about the post COVID 19 future.