10 Dec 2020
Slovakia's national COVID-19 testing program was only a temporary solution
Posted in
Coronavirus
Following Slovakia's national testing program from 31 October – 1 November, where two-thirds of the population were tested and the number of new daily cases dropped substantially, Slovakia was applauded for its efforts and held up as a possible solution to other European countries, says GlobalData, a leading data and analytics company.
Katie Wrenn, Pharma Analyst at GlobalData, comments: "The recent weeks have seen a slight rise in new cases, and though this increase is minimal, if cases continue to climb, Slovakia may need to take additional actions – such as lockdowns – as the national testing program may have only been a temporary solution."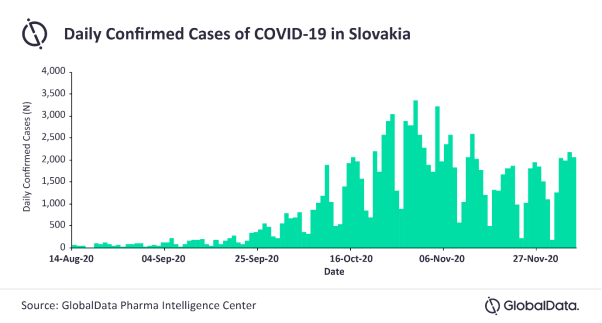 The national screening program required huge amounts of resources to be performed so rapidly, with 40,000 people needed to help implement the program, which included 15,000 healthcare workers and 8,000 military personnel.
Wren continues: "With such logistical support required for this program to be carried out efficiently, it is unlikely that Slovakia will carry out a program to this scale again. Therefore, if cases continue to rise in the country, further national lockdown restrictions may need to be implemented, which is what the country was initially trying to avoid."
The rapid antigen tests used in this program faced criticism. Although these tests are less costly and are much faster, they are less accurate than polymerase chain reaction (PCR) tests, with three in 10 positive cases not picked up. While PCR tests may be more accurate, they are unworkable for screening an entire population in a short amount of time.
Wren concludes: "It seems a combination of mass testing and tight lockdown restrictions is the most feasible solution for combatting the virus for countries with larger populations."