Tech, Media, & Telecom Trends 2020 – Updated for the impact of COVID-19 – Thematic Research
Powered by
All the vital news, analysis, and commentary curated by our industry experts.
COVID-19 is by far the most significant theme to affect the technology industry in 2020. It will put incredible strain on the world economy, which will be effectively halted for 3 months or more. It is effectively a stress test on companies' ability to cope with extreme shocks. COVID-19 will test the financial robustness of companies. Many companies will not survive this initial phase. Almost all others will suffer significant drop in revenues.
As the world enters lockdown, offices are closing, forcing desk-based staff to work at home. There will be many consequences for the IT industry, some sectors of which will perform better than others. Some will fare relatively well in the short term, for example collaboration software vendors and cloud services providers. Others – particularly IT infrastructure companies – may suffer short-term problems with their supply chains, but fare well in the future. But some sectors will do badly: 2020 will be a very bad year for IT services.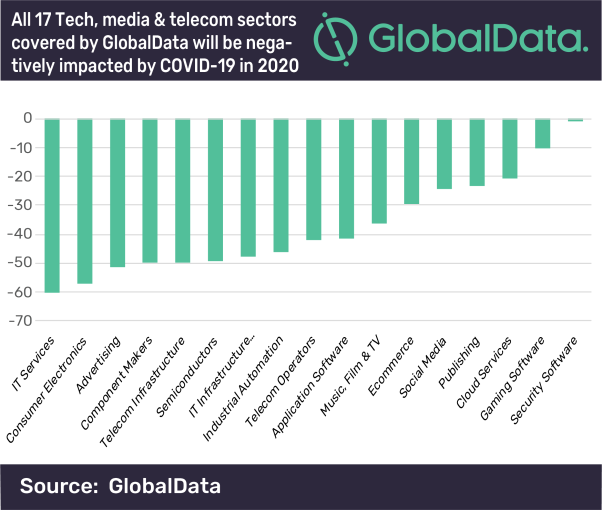 So, to help our clients gain competitive advantage, we have developed GlobalData's thematic research ecosystem, a single, integrated global research platform that provides an easy-to-use framework for tracking all themes across all companies in all sectors. This Tech, Media, and Telecom Trends 2020 report provides a top-down, comprehensive outlook for the key players in the TMT industry, based on the trends set to transform their industry landscape over the next two years.
Scope
This report analyses the impact of COVID-19 across 17 different technology sectors incorporating hardware (semiconductors, component makers, consumer electronics, IT infrastructure equipment, telecom infrastructure equipment, and industrial automation), software (application software, gaming software, and security software), services (IT services and cloud services), internet & media (ecommerce, social media, advertising, music, film, and TV, and publishing), and telecoms.
It discusses the short- and long-term impacts of COVID-19 on each sector, and ranks on a company-by-company basis the individual impact of COVID-19 alongside nine other themes that affect that sector.
In total, our analysts scored the top 600 TMT companies on their competitive position in 50 themes, including COVID-19. The algorithms in our thematic engine take account of the relative importance of each theme in the current economic climate, showing the leaders and laggards in our thematic screens.
Key Highlights
Our thematic scoring methodology is designed to identify tomorrow's leaders rather than today's incumbents, based on their competitive position in the most important themes impacting their industry.
This report analyses the impact of COVID-19 across 17 different technology sectors. It discusses the short- and long-term impacts of COVID-19 on each sector, and ranks on a company-by-company basis the individual impact of COVID-19 alongside nine other themes that affect that sector.
In total, our analysts scored the top 600 TMT companies on their competitive position in 50 themes, including COVID-19. The algorithms in our thematic engine take account of the relative importance of each theme in the current economic climate, showing the leaders and laggards in our thematic screens.
Reasons to Buy
You will not find a better guide to tech in 2020.
If you're worried about the pace of innovation in your industry, then flick through this report: it provides a top-down, comprehensive outlook for the top 600 players in the TMT industry, based on the key themes – including COVID19 – set to transform their industry landscape over the next two years.
At 193 pages, it is the most concise tech trends reference guide you will read in 2020. Written by 40 of the world's leading tech experts, GlobalData's TMT Trends 2020 report helps you to look credible when talking about tech in your industry.
The report tells you everything you need to know about disruptive themes and which companies are best placed to help you digitally transform your business.
Huawei
Apple Inc.
Microsoft Corporation
Alphabet Inc.
Amazon.com Inc.
Facebook Inc.
Alibaba Group Holding Ltd.
Tencent Holdings Ltd.
Wal-Mart Inc.
Taiwan Semiconductor Manufacturing Co., Ltd.
AT&T Inc.
The Walt Disney Company
Samsung Electronics Co., Ltd.
Intel Corporation
Verizon Communications Inc.
Grupo Televisa, S.A.B.
Toyota Motor Corp.
Comcast Corporation
Cisco Systems Inc.
Oracle Corporation
SAP SE
China Mobile Limited
Adobe Inc.
SK Telecom Co., Ltd.
Reliance Industries Limited
salesforce.com, inc.
NVIDIA Corp.
Netflix Inc.
Accenture Plc.
Broadcom Ltd.
Honeywell International Inc.
PayPal Holdings Inc.
ASML Holding NV
International Business Machines Corp. (IBM)
Texas Instruments Inc.
Tata Consultancy Services Limited
Prosus NV
Siemens AG
Charter Communications Inc.
Nippon Telegraph and Telephone Corp.
QUALCOMM Inc.
General Electric Company
Volkswagen AG
American Tower Corp.
NTT DoCoMo Inc.
Keyence Corp.
Sony Corp.
SoftBank Group Corp.
Booking Holdings Inc.
Deutsche Telekom AG
MEITUAN DIANPING B
Automatic Data Processing Inc.
KDDI Corp.
S&P Global, Inc.
Intuit Inc.
T-Mobile US Inc.
Tesla Inc.
Naspers Limited
Recruit Holdings Co., Ltd.
VMware Inc.
Raytheon Company
Daimler AG
Schneider Electric SE
Didi Chuxing
Crown Castle International Corp
JD.com Inc.
Applied Materials Inc.
Micron Technology Inc.
Nintendo Co., Ltd.
America Movil SAB de CV
Bayerische Motoren Werke AG (BMW)
Saudi Telecom Co.
Vodafone Group Plc
Honda Motor Co., Ltd.
General Motors Company
ServiceNow Inc.
ABB Ltd.
Uber Technologies, Inc
,Equinix Inc.
SK Hynix Inc.
RELX PLC
BCE Inc.
Moody's Corp.
Advanced Micro Devices Inc.
Shopify Inc.
Activision Blizzard Inc.
Infosys Limited
Royal Philips NV
Analog Devices Inc.
Square Inc.
Hon Hai Precision Industry Co., Ltd.
Hangzhou Hikvision Digital Technology Co., Ltd
Dassault Systemes SA
Singapore Telecommunications Limited
Fanuc Corp.
Lam Research Corporation
NetEase Inc.
Autodesk Inc.
Orange SA
Workday Inc.
SAIC Motor Corp. Ltd.
Emirates Telecommunications Group Company PJSC
Murata Manufacturing Co., Ltd.
Telefonica SA
Dell Technologies Inc.
Canon Inc.
Hitachi, Ltd.
Roper Technologies Inc.
DENSO CORPORATION
Thomson Reuters Corp.
Tokyo Electron Ltd.
Ford Motor Company
NXP Semiconductors NV
Cognizant Technology Solutions Corp.
Volvo AB
Vivendi SA
Bharti Airtel Limited
Baidu Inc.
Amphenol Corporation
China Telecom Corp., Ltd.
TE Connectivity Ltd.
Airbnb
Xiaomi Corp.
Sirius XM Holdings Inc.
LM Ericsson Telefon AB
Telstra Corp. Ltd.
Electronic Arts Inc.
Mitsubishi Electric Corp.
HP Inc.
IHS Markit Ltd.
eBay Inc.
Experian PLC
MercadoLibre Inc.
Chunghwa Telecom Co., Ltd
Infineon Technologies AG
Contemporary Amperex Technology Co., Ltd.
PT Telekomunikasi Indonesia, Tbk
Motorola Solutions Inc.
Swisscom AG
China Unicom (Hong Kong) Limited
Spotify Technology S.A.
SBA Communications Corp.
KLA-Tencor Corporation
Continental AG
Telenor ASA
Agilent Technologies Inc.
Larsen & Toubro Ltd.
BT Group plc
Rogers Communications Inc.
Kyocera Corp.
Nissan Motor Co., Ltd.
Verisk Analytics Inc.
PINDUODUO INC.. SPONSORED ADR
Komatsu Ltd.
CBS Corporation
Microchip Technology Inc.
Aptiv PLC
Twitter Inc.
Xilinx Inc.
STMicroelectronics NV
BAE Systems plc
Rockwell Automation Inc.
Panasonic Corporation
SNAP
TELUS Corp.
Okta Inc.
Telefonica Brasil S.A.
Splunk Inc.
Adyen NV
VeriSign Inc.
Fiat Chrysler Automobiles NV
MediaTek Inc.
Palo Alto Networks Inc.
CGI, Inc.
Sprint Communications Inc.
Corning Incorporated
ANSYS Inc.
NAVER Corp.
Hyundai Motor Company
LARGAN Precision Co., Ltd.
Suzuki Motor Corp.
Advanced Info Service PCL
Hexagon AB
HCL Technologies Limited
Peugeot SA
Thales SA
Constellation Software Inc.
HEWLETT PACKARD ENTERPRISE CO
Synopsys Inc.
Olympus Corp.
Nokia Oyj
Wolters Kluwer NV
Sunny Optical Technology (Group) Co., Ltd.
Wipro Limited
Keysight Technologies Inc.
Capgemini SE
Fujitsu Limited
NTT DATA Corp.
MATCH GROUP
LG Chem Ltd.
Trip.com Group Ltd.
Veeva Systems Inc.
Skyworks Solutions Inc.
Garmin Ltd.
Cadence Design Systems Inc.
IAC/InterActiveCorp.
ZTE Corp.
Telia Co. AB
Geely Automobile Holdings Limited
Fortinet Inc.
GoDaddy Inc.
Omnicom Group Inc
TAL Education Group
Check Point Software Technologies Ltd.
Yahoo Japan Corp.
DISH Network Corp.
Expedia Group, Inc.
Magna International Inc.
Liberty Global Plc
Marvell Technology Group Ltd.
Equifax Inc.
NortonLifeLock Inc.
WPP Plc
Maxim Integrated Products Inc.
Toshiba Corp.
Paycom Software Inc.
CenturyLink Inc.
Seagate Technology PLC
Western Digital Corp.
Live Nation Entertainment Inc.
SS&C Technologies Inc.
Arista Networks Inc.
Citrix Systems Inc.
LYFT Inc.
TDK Corp.
Gartner Inc.
Take-Two Interactive Software Inc.
NetApp Inc.
Akamai Technologies Inc.
Discovery Inc.
Renault SA
BANDAI NAMCO Holdings Inc.
Roku Inc.
QORVO
Vodacom Group Limited
Telecom Italia S.p.A.
Samsung SDI Co., Ltd
Taiwan Mobile Co., Ltd.
DOCUSIGN INC
Informa Plc
Royal KPN NV
The AES Corp.
Ubiquiti Inc.
SLACK TECHNOLOGIES
NEXON Co., Ltd.
OMRON Corporation
Delta Electronics Inc.
RingCentral Inc.
Yandex NV
Advanced Semiconductor Engineering Inc.
Eos
TWILIO INC
Wayfair Inc.
Safaricom PLC
Renesas Electronics Corp.
Bureau Veritas SA
LINE Corp.
Zalando SE
Open Text Corporation
Rakuten Inc.
EPAM Systems Inc.
Ocado Group PLC
BYD Co., Ltd.
MTN Group Limited
Umicore
Teradyne Inc.
Tyler Technologies Inc.
NEC Corp.
Sea Ltd. (Singapore)
LG Electronics Inc.
Dentsu Inc.
Kakao Corp.
Temenos AG
Publicis Groupe SA
Shaw Communications Inc.
Delivery Hero AG
The Sage Group plc
Tech Mahindra Limited
FactSet Research Systems Inc.
Fair Isaac Corp.
AAC Technologies Holdings Inc.
Advantest Corp.
iflytek Co., Ltd.
Dyson
Tele2 AB
TRADE DESK INC
Yaskawa Electric Corp.
Great Wall Motor Co., Ltd.
Viacom Inc.
PINTEREST INC..
NCsoft Corp.
Maxis Bhd.
Mobile TeleSystems PJSC
Proximus SA
NICE Ltd. (Israel)
Sharp Corporation
REA Group Ltd
DXC Technology Co.
ON Semiconductor Corp.
Axiata Group Bhd.
Coupa Software Inc.
GoerTek Inc.
ATOS SE
Universal Display Corp.
Nitto Denko Corp.
Cognex Corporation
Flutter Entertainment Plc
Elisa Oyj
ROHM Co., Ltd.
The Interpublic Group of Companies Inc.
Lamar Advertising Co
Liberty Media Corp. (Formula One)
Liberty Media Corp. (Formula One)
Valeo SA
Cypress Semiconductor Corp.
Zillow Group Inc.
F5 Networks Inc.
Autohome Inc.
PTC Inc.
DiGi,com Bhd.
TIM Participacoes S.A.
Sensata Technologies Holding PLC
Mobile Telecommunications Co. KSC
Zendesk Inc.
Zayo Group Holdings Inc.
Asahi Glass Co., Ltd.
Vipshop Holdings Ltd.
Juniper Networks Inc.
Xerox Corp.
Lenovo Group Limited
News Corp.
Quanta Computer Inc.
Mahindra & Mahindra Ltd.
Nanya Technology Corp.
Far EasTone Telecommunications Co., Ltd.
Genpact Limited
Ricoh Company, Ltd.
Xero Limited
58,com Inc.
Axel Springer SE
ITV plc
Iliad SA
SES SA
Ubisoft Entertainment SA
Trend Micro Inc.
RTL Group S.A.
Monolithic Power Systems Inc.
Schaeffler AG
Logitech International S.A.
Faurecia SA
Autoliv Inc.
Semiconductor Manufacturing International Corp.
Tata Motors Limited
Altice NV
Hellenic Telecommunications Organization SA
Johnson Matthey Plc
Rightmove plc
JUST EAT plc
Nielsen Holdings Plc
Ingenico Group SA
Emirates Integrated Telecommunications Company PJSC
Pearson PLC
Bharti Infratel Ltd.
United Internet AG
MonotaRO Co., Ltd.
Scout24 AG
Schibsted ASA
Quebecor Inc.
Auto Trader Group Plc
CDK Global Inc.
Morningstar Inc.
Ooredoo QSC
United Microelectronics Corp.
Paylocity Holding Corp.
HubSpot Inc.
Proofpoint Inc.
Netmarble Corp.
Mellanox Technologies, Ltd.
iQIYI Inc.
CD Projekt S.A.
GVC Holdings PLC
Interxion Holding N.V.
JCDecaux SA
Square Enix Holdings Co., Ltd.
Wix,com Ltd.
Intouch Holdings PCL
Catcher Technology Co., Ltd.
Jabil Inc.
Sabre Corp.
Momo Inc.
Pegasystems Inc.
Pegatron Corp.
Start Today Co., Ltd.
Flex Ltd.
Zynga Inc.
ZSCALER INC
Konami Corp.
Takeaway.com NV
Inspur Electronic Information Industry Co., Ltd.
ASUSTeK Computer Inc.
NUTANIX INC
Seiko Epson Corp.
Ciena Corp.
KT Corp.
Brother Industries, Ltd.
51job Inc.
Lumentum Holdings Inc.
Yageo Corp.
Nikon Corp.
The New York Times Company
Telekom Austria AG
Weibo Corp.
Seek Limited
Spark New Zealand Limited
Kakaku.com Inc.
RealPage Inc.
Alteryx Inc.
Turkcell Iletisim Hizmetleri A.S.
Globe Telecom Inc.
LG Uplus Corp
Telenet Group Holding NV
True Corp. PCL
Nuance Communications Inc.
Nexstar Media Group Inc.
Science Applications International Corp.
Cree Inc.
Etsy, Inc
,Alliance Data Systems Corp.
Silicon Laboratories Inc.
LG Display Co., Ltd
CARVANA CO
Etihad Etisalat Co.
Millicom International Cellular S.A.
Alibaba Pictures Group Limited
CyberArk Software Ltd
,j2 Global Inc.
BAIC Motor Corp., Ltd.
PCCW Limited
Stroer SE & Co. KGaA
Chegg Inc.
Navinfo Co., Ltd.
Dawning Information Industry Co., Ltd.
VEON Ltd.
Info Edge India Ltd.
Micro Focus International plc
CyberAgent Inc.
Seven Group Holdings Ltd
Cirrus Logic Inc.
Harmonic Drive Systems Inc.
DROPBOX INC
Dolby Laboratories Inc.
PLDT, Inc.
Bilibili Inc.
Turk Telekomunikasyon A.S.
Total Access Communication PCL
PURE STORAGE INC
Vanguard International Semiconductor Co.
boohoo,com Plc
Mail.RU Group Limited
TripAdvisor Inc.
Box Inc.
Nabtesco Corporation
LogMeIn Inc.
Eutelsat Communications SA
New Relic, Inc
,Blackbaud Inc.
Realtek Semiconductor Corp
Cabot Microelectronics Corp.
Zee Entertainment Enterprises Limited
Dialog Semiconductor plc
Cineworld Group plc
Rocket Internet SE
Kawasaki Heavy Industries Ltd.
TENCENT MUSIC ENTERTAINMENT ADR
GrubHub Inc.
Entertainment One Ltd.
Renishaw plc
OUTFRONT Media Inc.
Sophos Group Plc
ams AG
TietoEVRY Corp.
ProSiebenSat.1 Media SE
Oracle Financial Services Software Limited
Multichoice Group Ltd
FireEye Inc.
Sega Sammy Holdings Inc.
HelloFresh SE
Telekom Malaysia Bhd.
Energizer Holdings Inc.
Nippon Television Holdings Inc.
Verint Systems Inc.
Appian Corp.
Qurate Retail, Inc.
AVX Corp.
Cornerstone OnDemand, Inc.
Graham Holdings Company
Kingsoft Corp. Ltd.
Mediaset S.p.A.
Fuji Media Holdings Inc.
Viavi Solutions Inc.
Venture Corp. Ltd.
Inmarsat plc
Cargurus Inc.
LiveRamp Holdings, Inc.
AppFolio Inc.
Qualys Inc.
Foxconn Technology Co., Ltd.
ASOS plc
Liberty Broadband Corp.
Cloudera Inc.
O2 Czech Republic as
EnerSys
IDP Education Ltd.
Sopra Steria Group SA
Amkor Technology Inc.
BlackBerry Limited
SIASUN Robot & Automation Co., Ltd.
Accton Technology Corp.
World Wrestling Entertainment Inc.
Melexis NV
AU Optronics Corp.
United States Cellular Corp.
Lagardere SCA
Capcom Co., Ltd.
Teradata Corp.
Ningbo Joyson Electronic Corp.
BlackLine Inc.
Trainline Plc
ACACIA COMMUNICATIONS INC
Carsales.Com Limited
Anritsu Corp.
Wistron Corporation
John Wiley & Sons Inc.
Idea Cellular Limited
Inventec Corp.
Compal Electronics Inc.
Mimecast Ltd. (Jersey)
Rapid7 Inc.
Software AG
Innolux Corp.
Sun Tv Network Limited
Proto Labs Inc.
CommScope Holding Co Inc.
DouYu International Holdings Ltd.
Diodes Incorporated
SINA Corp.
LivePerson Inc.
FARFETCH Ltd.
Singapore Press Holdings Limited
Daily Mail and General Trust plc
DeNA Co., Ltd.
Ourpalm Co., Ltd.
Chinese Universe Publishing and Media Co., Ltd.
Cheil Worldwide Inc.
Orange Polskiej S.A.
Yelp Inc.
GMO Internet Inc.
Varonis Systems Inc.
Youzu Interactive Co., Ltd.
Computacenter Plc
Bezeq The Israel Telecommunication Corp. Ltd.
MphasiS Limited
Fabrinet
Metropole Television SA
Moneysupermarket.com Group plc
EVERTEC Inc.
Adient plc
Exide Industries Limited
eHealth Inc.
CommVault Systems Inc.
TV Asahi Holdings Corp.
GungHo Online Entertainment Inc.
Alarm.com Holdings Inc.
Knowles Corp.
Neusoft Corp.
Synaptics Inc.
REDFIN CORP
EchoStar Corp.
Lions Gate Entertainment Corp.
ULVAC Inc.
Orange Egypt For Telecommunications
Progress Software Corp.
BAOZUN INC.
Instructure Inc.
StarHub Ltd
Ambarella Inc.
Indra Sistemas, S.A.
Ascential Plc
NetScout Systems Inc.
GS Yuasa Corporation
GlobalData Plc
Acer Inc.
Vonage Holdings Corp.
Euromoney Institutional Investor PLC
Television Francaise 1 SA
MicroStrategy Inc.
NIO INC.. SPONSORED ADR
Spirent Communications plc
Silicon Motion Technology Corp.
Sanoma Oyj
PAGERDUTY INC.
Beijing Gehua CATV Network Co., Ltd.
Mobile Telecommunications Co, Saudi Arabia
New Work SE
MACOM Technology Solutions Holdings, Inc.
Suzhou Anjie Technology Co., Ltd.
InterDigital Inc.
KUKA AG
Telecom Argentina SA
PLURALSIGHT INC
AMC Networks Inc.
Allscripts Healthcare Solutions Inc.
Kulicke & Soffa Industries Inc.
PIVOTAL SOFTWARE INC
Paradox Interactive AB
Systena Corp.
Workiva Inc.
Tata Communications Limited
Groupon Inc.
ForeScout Technologies Inc.
TalkTalk Telecom Group PLC
Fitbit Inc.
Webzen Inc.
MakeMyTrip Ltd.
Stitch Fix Inc.
Magyar Telekom Telecommunications Plc
Playtech plc
Shutterstock Inc.
Liberty Media Corp. (Liberty Braves)
COLOPL Inc.
SONOS INC.
The RealReal, Inc.
Meredith Corporation
Rambus Inc.
FIH Mobile Ltd.
Mixi Inc.
Razer Inc.
Hexaware Technologies Limited
Stamps.com Inc.
2U Inc.
TomTom International B.V.
Telkom SA SOC Ltd.
Qisda Corp.
Kindred Group plc
Dongfeng Automobile Co., Ltd.
Conduent Inc.
Orange Belgium SA
iRobot Corp.
Green Dot Corporation
NetDragon Websoft Holdings Limited
TEGNA Inc.
Scholastic Corp.
Avaya Holdings Corp.
Realogy Holdings Corp.
The E. W. Scripps Company
Epistar Corp.
HUYA Inc.
NextGen Healthcare, Inc.
Blucora Inc.
PT Indosat Tbk
Infinera Corp.
UPWORK INC.
Clear Channel Outdoor Holdings Inc.
Webjet Limited
Estun Automation Co., Ltd.
Delphi Technologies Plc
Nachi-Fujikoshi Corp.
LendingClub Corp.
Telefonica del Peru SA
Hutchison Telecommunications (Australia) Limited
Criteo SA
Gannett Co Inc.
Stratasys Ltd.
Telecom Egypt
Com2us Corp.
Bitauto Holdings Ltd.
GREE Inc.
SecureWorks Corp.
Tivo Corp.
3D Systems Corp.
Learning Technologies Group Plc
AIXTRON SE
Ebix Inc.
CrowdStrike Holdings, Inc.
HTC Corp.
GoPro, Inc
,Atresmedia Corporacion de Medios de Comunicacion SA
Quotient Technology Inc.
Wistron Neweb Corp.
Hutchison Telecommunications Hong Kong Holdings Limited
HollySys Automation Technologies Ltd.
IGG Inc.
Intelsat S.A.
FARO Technologies Inc.
SmarTone Telecommunications Holdings Limited
PayPoint plc
YouGov plc
Himax Technologies Inc.
Glu Mobile Inc.
Silverlake Axis Ltd
Bizlink Holding Inc.
Modern Times Group (MTG) AB
Extreme Networks Inc.
Tenneco Inc.
Forrester Research Inc.
TPK Holding Co., Ltd.
NCC Group plc
Asia Optical Co. Inc.
Partner Communications Co., Ltd.
Persistent Systems Limited
NETGEAR Inc.
S.M. Entertainment Co., Ltd.
Nippon Ceramic Co., Ltd.
Cyberdyne Inc.
GTT Communications Inc.
Entercom Communications Corp.
Veeco Instruments Inc.
Seoul Semiconductor Co., Ltd
Television Broadcasts Limited
Benefitfocus Inc.
TOM Group Limited
Sterlite Technologies Limited
Frontier Developments Plc
21Vianet Group Inc.
Sercomm Corp.
F-Secure Oyj
Japan Display Inc.
SOGOU INC ADR
AO World Plc
Just Dial Ltd.
TrueCar Inc.
AhnLab Inc.
Cybozu Inc.
MobileIron, Inc
,Everlight Electronics Co., Ltd.
CM Wind Down Topco Inc.
Hathway Cable & Datacom Ltd.
A10 Networks Inc.
Gurunavi Inc.
YIRENDAI
Grammer AG
Rostelecom Long-Distance & Intl Telecommunications Co. PJSC
ADTRAN Inc.
Calix Inc.
ADVA AG Optical Networking
First Sensor AG
Reach plc
Clear Media Limited
Purplebricks Group Plc
Care,com Inc.
SEBANG GLOBAL BATTERY Co., Ltd.
The Rubicon Project Inc.
Alpha Networks Inc.
Ningbo Bird Co., Ltd.
Sohu,com Inc.
NeoPhotonics Corp.
Rovio Entertainment Oyj
Telaria Inc.
Network 18 Media & Investments Ltd.
CalAmp Corp.
Marvelous Inc.
Brightcove Inc.
Sierra Wireless Inc.
Adlink Technology Inc.
Technicolor SA
Xunlei Ltd.
Pakistan Telecommunication Co., Ltd.
comScore Inc.
HT&E Limited
500,com Ltd.
Eros International plc
Oi S.A.
Unizyx Holding Corp.
Allot Communications Ltd.
On Deck Capital, Inc
,Tian Ge Interactive Holdings Ltd.
Kudelski SA
Ribbon Communications Inc.
NEOWIZ Co., Ltd.
ABS-CBN Corp.
Telit Communications S.p.A.
Jusung Engineering Co., Ltd
GMM Grammy PCL
D-Link Corp.
Consolidated Communications Holdings Inc.
WANdisco Plc
Channeladvisor Corp.
Otello Corp. ASA
Leju Holdings Ltd.
gumi Inc.
Bittium Oyj
Applied Optoelectronics Inc.
Altek Corp.
Net 1 UEPS Technologies Inc.
Liquidity Services Inc.
TV Today Network Ltd.
Tung Thih Electronic Co., Ltd.
YY Inc.
Changyou,com Ltd.
Gamevil Inc.
KT HiTEL Co., Ltd.
Danal Co., Ltd
Sing Tao News Corp. Ltd.
Neo Neon Holdings Ltd.
SeaChange International Inc.
Castlight Health Inc.
Marchex Inc.
Fang Holdings Ltd.
MoneyGram International Inc.
Interpark Corp.
Bango plc
Jumei International Holding Ltd.
Toda Kogyo Corp.
M&C Saatchi plc
Hinduja Ventures Limited
The ExOne Co.
Leaf Group Ltd.
UTStarcom Holdings Corp.
Boyaa Interactive International Ltd.
Young Fast Optoelectronics Co., Ltd
PHarol SGPS S.A.
Neowiz Holdings Corp.
Parrot SA
SBS Contents Hub Co., Ltd
Next Digital Limited
Harvatek Corp.
Star Media Group Bhd.
Great Elm Capital Group, Inc.
Vuzix Corp.
Balaji Telefilms Limited
Forgame Holdings Ltd.
Frontier Communications Corp.
Mahanagar Telephone Nigam Limited
Tata Teleservices (Maharashtra) Limited
Organovo Holdings Inc.
G-Tech Optoelectronics Corp.
I-CABLE Communications Limited
LightInTheBox Holding Co., Ltd.
CBAK Energy Technology Inc.
Uangel Corp.
Tiscali Italia S.p.A.
HT Media Limited
Ekso Bionics Holdings Inc.
Renren Inc.
Reliance Communications Limited
Beijing Media Corp. Ltd.
New Delhi Television Limited
Cheetah Mobile Inc.
Westell Technologies Inc.
voxeljet AG
Windstream Holdings Inc.
Zoom Technologies Inc
ChinaCache International Holdings Ltd.
Rediff.com India Ltd.
Table of Contents
Introduction

Hardware

Software

Services

Internet & Media

Telecoms

Appendix: Our "thematic" research methodology
Frequently asked questions
Currency Conversion is for Indicative purpose only. All orders are processed in US Dollars only.
Get in touch to find out about multi-purchase discounts
reportstore@globaldata.com
Tel +44 20 7947 2745
Every customer's requirement is unique. With over 220,000 construction projects tracked, we can create a tailored dataset for you based on the types of projects you are looking for. Please get in touch with your specific requirements and we can send you a quote.
See what our customers are saying
"The GlobalData platform is our go-to tool for intelligence services. GlobalData provides an easy way to access comprehensive intelligence data around multiple sectors, which essentially makes it a one-for-all intelligence platform, for tendering and approaching customers.
GlobalData is very customer orientated, with a high degree of personalised services, which benefits everyday use. The highly detailed project intelligence and forecast reports can be utilised across multiple departments and workflow scopes, from operational to strategic level, and often support strategic decisions. GlobalData Analytics and visualisation solutions has contributed positively when preparing management presentations and strategic papers."
Business Intelligence & Marketing Manager, SAL Heavy Lift
"COVID-19 has caused significant interference to our business and the COVID-19 intelligence from GlobalData has helped us reach better decisions around strategy. These two highlights have helped enormously to understand the projections into the future concerning our business units, we also utilise the project database to source new projects for Liebherr-Werk to use as an additional source to pitch for new business."
Market Analyst & Management, Liebherr-Werk
Your daily news has saved me a lot of time and keeps me up-to-date with what is happening in the market, I like that you almost always have a link to the source origin. We also use your market data in our Strategic Business Process to support our business decisions. By having everything in one place on the Intelligence Center it has saved me a lot of time versus looking on different sources, the alert function also helps with this.
Head of Key Accounts, Saab AB
Having used several other market research companies, I find that GlobalData manages to provide that 'difficult-to-get' market data that others can't, as well as very diverse and complete consumer surveys.
Marketing Intelligence Manager, Portugal Foods
Our experience with GlobalData has been very good, from the platform itself to the people. I find that the analysts and the account team have a high level of customer focus and responsiveness and therefore I can always rely on. The platform is more holistic than other providers. It is convenient and almost like a one stop shop. The pricing suite is highly competitive and value for our organisation.
I like reports that inform new segments such as the analysis on generation Z, millennials, the impact of COVID 19 to our banking customers and their new channel habits. Secondly the specialist insight on affluent sector significantly increases our understanding about this group of customers. The combination of those give us depth and breadth of the evolving market.
I'm in the business of answering and helping people make decisions so with the intelligence center I can do that, effectively and efficiently. I can share quickly key insights that answer and satisfy our country stakeholders by giving them many quality studies and primary research about competitive landscape beyond the outlook of our bank. It helps me be seen as an advisory partner and that makes a big difference. A big benefit of our subscription is that no one holds the whole data and because it allows so many people, so many different parts of our organisation have access, it enables all teams to have the same level of knowledge and decision support.
Head of Customer Insight and Research, Standard Chartered
"I know that I can always rely on Globaldata's work when I'm searching for the right consumer and market insights. I use Globaldata insights to understand the changing market & consumer landscape and help create better taste & wellbeing solutions for our customers in food, beverage and healthcare industries.
Globaldata has the right data and the reports are of very high quality compared to your competitors. Globaldata not only has overall market sizes & consumer insights on food & beverages but also provides insights at the ingredient & flavour level. That is key for B2B companies like Givaudan. This way we understand our customers' business and also gain insight to our unique industry"
Head of Consumer Sensory Insights, Givaudan
GlobalData provides a great range of information and reports on various sectors that is highly relevant, timely, easy to access and utilise.  The reports and data dashboards help engagement with clients; they provide valuable industry and market insights that can enrich client conversations and can help in the shaping of value propositions. Moreover, using GlobalData products has helped increase my knowledge of the finance sector, the players within it, and the general threats and opportunities.
I find the consumer surveys that are carried out to be extremely beneficial and not something I have seen anywhere else. They provided an insightful view of why and which consumers take (or don't) particular financial products. This can help shape conversations with clients to ensure they make the right strategic decisions for their business.
One of the challenges I have found is that data in the payments space is often piecemeal. With GD all of the data I need is in one place, but it also comes with additional market reports that provide useful extra context and information. Having the ability to set-up alerts on relevant movements in the industry, be it competitors or customers, and have them emailed directly to me, ensures I get early sight of industry activity and don't have to search for news.
Senior Account Manager, TSYS