With the world still grappling with the COVID-19-induced economic recession, the UK and the EU have another challenge to face – Brexit. Both sides will lose out economically in the event of no-deal, and the harder Brexit is the greater losses will be, says GlobalData a leading data and analytics company.
Urte Jakimaviciute MSc, Senior Director of Market Research, comments: "The Brexit trade deal negotiation process has been challenging from the very moment it started, with both sides accusing the other of delaying the process and causing deadlocks. Even though both the EU and the UK have pledged that a 'no trade deal' scenario is no one's preferred choice, various actions have escalated the division between both sides and threatens Britain to lose confidence with future trading partners."
In GlobalData's recent poll* 32% of respondents indicated that COVID-19 will prompt the EU and the UK to agree on a future trade deal. Nevertheless, across geographies the respondents coming from Europe were less optimistic with 31% believing that the virus will have no impact on Brexit, with the UK set to leave the EU without a trade deal by the end of the year.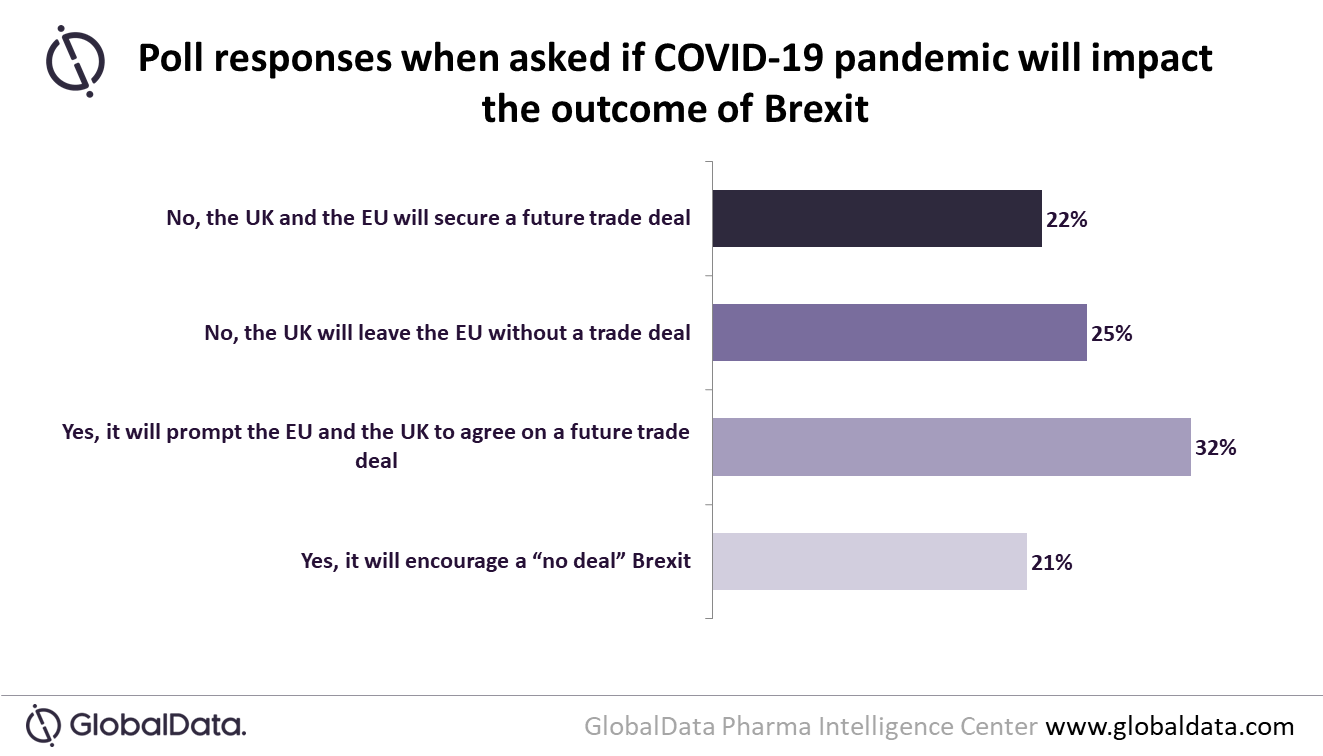 Jakimaviciute continues: "While the first wave of COVID-19 forced companies to rethink and create more resilient global supply chains, Brexit may add another level of stress. Pharmaceutical industry leaders have already warned the UK Government that their stockpiles – accumulated in preparation for a no-deal Brexit back in 2020 – have been eroded by pandemic and supplies, including treatments used for COVID-19, have been left even more vulnerable in the event that the UK leaves the EU without a trade deal."
The decades of close collaboration and trade between the EU and the UK also provided division of services and goods among the bloc members – where Britain dominated as a financial and business services provider, with service sector accounting for 80% of the UK's economic output, according to the Office of National Statistics (ONS).
Jakimaviciute notes: "Its dependence on the service sector means that Britain's economy is more vulnerable to social distancing and lockdown measures. The country has already suffered the deepest recession among the world's top economies during the COVID-19 outbreak – shrinking by more than 20% from April to June, according to the ONS. Given the UK economy's dependence on domestic consumer spending, a no-deal Brexit scenario combined with the second wave of COVID-19 may be too hard for the country to take."
* The poll was completed by 335 readers of GlobalData's Pharmaceutical Technology website between 3 August and 6 October