The South Korean economy as a whole and specifically payments are seeing their organic move to a more digital space pushed up a notch due to COVID-19 thereby reducing the dependency on cash, according to GlobalData, a leading data and analytics company.
An analysis of GlobalData's Payment Instrument Analytics reveals that the share of cash in the overall transaction volume declined from 57.6% in 2015 to 45.1% in 2019. This is expected to further decline to 37.2% by 2023, with non-cash payments accounting for two-thirds of total payment volume.
Nikhil Reddy, Banking and Payments Analyst at GlobalData, comments: "The pandemic has triggered a fear of infection through handling of cash, pushing the adoption of electronic payments such as contactless cards and mobile wallets. The central bank is quarantining bank notes and even burning some to remove any traces of coronavirus to stem the outbreak, which is further pushing the uptake of electronic payments."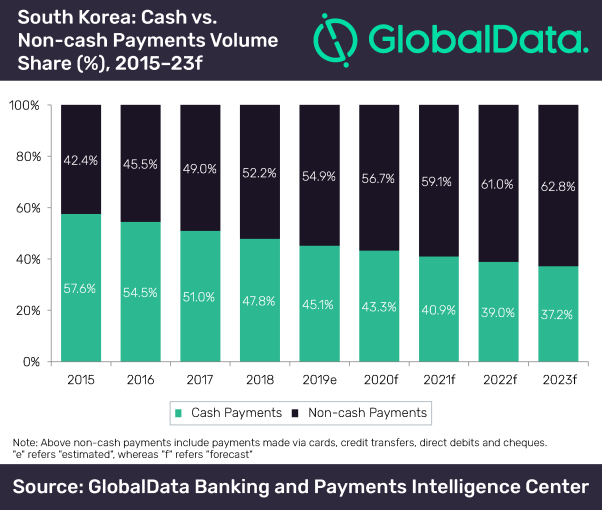 While cash transactions are likely to wane in the short to medium term, debit and credit card transaction will continue to grow. The growth, however, is likely to be hampered because of the overall decrease in consumer spending.
The decline in in-store payments, will be partially offset by the rising e-commerce spending as wary consumers prefer buying online to avoid exposure to disease vectors such as cash and POS terminals. The country's major credit card issuers such as Shinhan, Samsung, KB Kookmin, Hyundai, BC, Lotte, Woori, and Hana are now witnessing rise in their credit card use for online purchases.
Reddy concludes: "South Korea has been steadily making progress towards a less-cash society driven by factors like well-developed payment infrastructure, strong banked population, and high financial awareness among consumers. The recent COVID-19 outbreak is expected to further accelerate this transformation."