17 Apr 2019
Despite Brexit turmoil, a Franco-British cruise missile project goes on and bets on good export figures, says GlobalData
Posted in
Press Release
In spite of the current Brexit turmoil, recent evolutions suggest the Franco-British Future Cruise/Anti-Ship Weapon (FC/ASW) program is well on track, says GlobalData, a leading data and analytics company.
The joint-program, designed by European missile specialist MBDA, passed a key-review milestone last month, two years into its conception phase and on time to start development in 2020 as planned. A representative of the Defence Equipment and Support agency, part of the British Ministry of Defence, speaking in front of a French audience during a conference in Paris on Wednesday 10th April was confident in the future of the program.
Nicolas Jouan, Aerospace and Defense analyst at GlobalData comments, "Clouds were however gathering until late last year. A joint-enquiry of British and French lawmakers alerted last December on a series of issues to resolve. The FC/ASW will replace the British Harpoon and the French Exocet by 2030, but the former is set to retire as soon as 2023, creating a 7-year capability gap that will require the acquisition of an 'interim' anti-ship missile, likely to be American. The interoperability of the F-35 fighter, in use in the Royal Navy, and the French Rafale also add to the complexity of the project."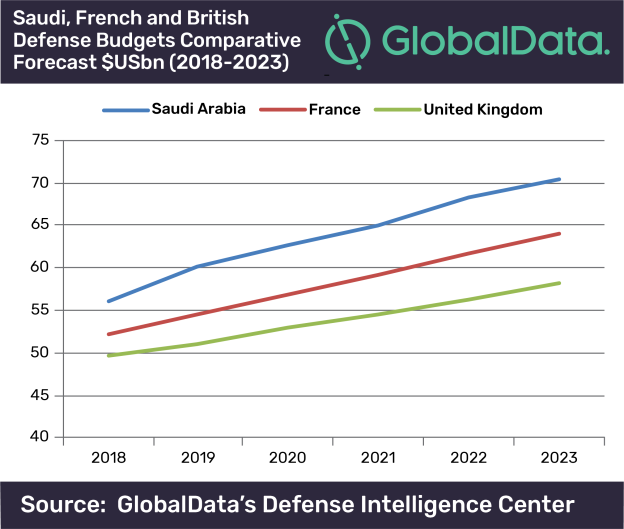 IMAGE FOR PUBLICATION: Please click here for chart
However, the UK and France also agree on the missile's export potential. Both countries want to avoid outsiders' interference in their commercial decision. An American veto to the sale of SCALP missiles to Egypt by France in July 2018, possible under ITAR regulation whenever American components are concerned, was a painful reminder of the strategic value of industrial autonomy. The two countries also share vexation towards Germany's unilateral embargo on Saudi arms sales, bringing them back in the arms of each other when it comes to weapon development.
Jouan adds: "The UK and France find it easier to cooperate on missiles rather than on more complex platforms such as fighter jets or battle tanks, following the MBDA's fusion between the French Matra Defence and the British BAe Dynamics in the 1990s. Missiles have the advantage to adapt to different platforms such as those deployed in the British and French navies. Furthermore, the UK and France have relatively similar operational needs, limiting the potential for disagreements between the two."