14 Oct 2019
Global armored vehicles market set to reach up to US$25.7bn by 2029 driven by modernization and new force structures
Posted in
Press Release
The global armored vehicles market worth US$19.5bn in 2019 is set to reach up to US$25.7bn in 2029, growing at a compound annual growth rate (CAGR) of 2.76%, according to GlobalData, a leading data and analytics company.
GlobalData's report: 'The Global Armored Vehicle Market 2019–2029', reveals that the demand for armored vehicles is expected to be primarily driven by the need for modernization and new force structuring capable of addressing any threat in the full spectrum of warfare, from low to high-intensity.
Stelios Kanavakis, Land Systems Market Lead at GlobalData, commented: "The wide range of threats that military forces face worldwide, which include military and homeland security risks, will increase the demand for new or used armored vehicle platforms to tackle threats in a cost-effective and operationally viable way, with an increased number of planners putting emphasis on wheeled vehicles as opposed to tracked ones."
The global armored vehicle market includes nine segments on the basis of platform type, led by Infantry Fighting Vehicles and Heavy Armament Combat Vehicles (HACV) with each assuming 21.6% share of sales, followed by Light Multirole Vehicles (LMVs) and Main Battle Tanks with a 19.7% and 14.6% share respectively.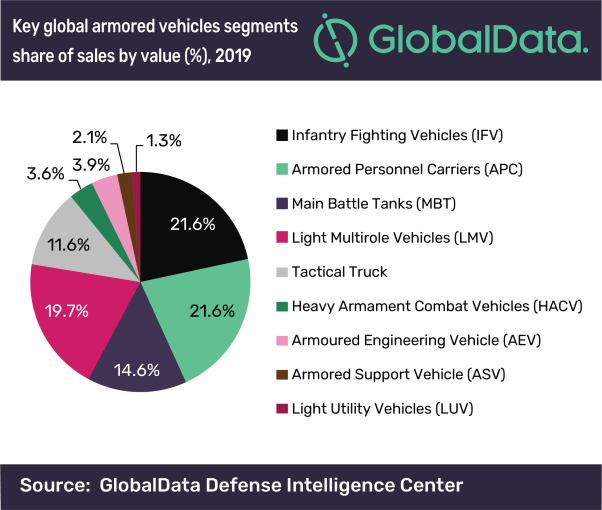 Along with the major defense spenders in every region, smaller countries are also implementing new acquisition plans or programs for the development of improved armored vehicles.
Europe is expected to lead the armored vehicles market in the 2019-2029 period with a total value of US$79.3bn or 31.7% share of the overall market, followed by the Asia-Pacific region with a total expenditure of US$65.6bn and a share of 26.2% of the overall market.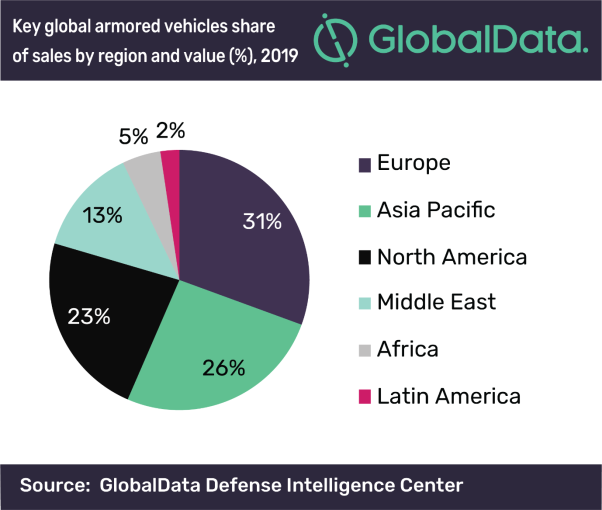 The Middle East, Africa and Latin America will grow with a CAGR of 14.8%, 5.5% and 2.9% respectively, and a value of US$37bn, US$13.8bn and US$7.3bn.
Kanavakis added: "The transition of many large military forces towards lighter, expeditionary forces has led them to acquire wheeled vehicles that can be mobilized within a shorter period of time, and also offer improved protection and increased firepower capabilities."
Information based on GlobalData's report: 'The Global Armored Vehicle Market 2019–2029'