23 Jan 2020
HPV testing devices market expected to total $440.2m by 2028, says GlobalData
Posted in
Medical Devices
There are more than 500,000 incident cases of cervical cancer each year, and yet 10% – 20% of women forego regular screening, according to GlobalData, a leading data and analytics company. This is something that events such as Cervical Cancer Prevention Week wish to address.
Dara Lo, Medical Devices Analyst at GlobalData comments, "Remarkably, the European HPV tests market is predicted to show strong growth at a compound annual growth rate (CAGR) of 8.7% over the next ten years, while globally, the HPV testing market is expected to grow only 2.4%."
The company's latest report, 'Human Papilloma Virus (HPV) Tests – In Vitro Diagnostics Market Analysis and Forecast Model', reveals that this strong growth is a result of national cancer screening initiatives being rolled out across Europe, which include favourable government policies that allow for increasing cervical cancer screening awareness and a shift away from pap smears towards HPV testing.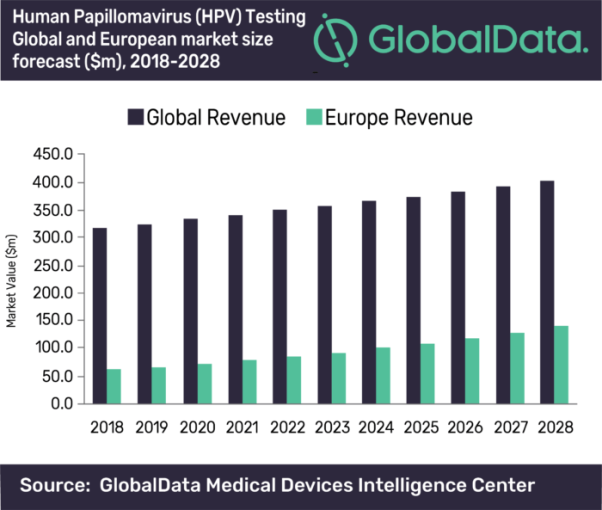 IMAGE Available: Human Papillomavirus (HPV) Testing Global and European market size forecast ($m), 2018-2028
Lo continued: "National cancer screening programs heavily impact market size, which has never been more apparent than in the case of cervical cancer screening initiatives across Europe where market value is $55m in 2018 and is expected to, at least, double in size to $129m by 2028. Conversely, in North America, where screening initiatives lag behind Europe, the market is expected to display only minimal growth during the forecast period"
"Recent years has seen many countries shift away from cytology-based pap tests towards HPV tests in their cervical cancer and pre-cancer screening programs. HPV screening methods may enable better prevention of the disease as these devices are more sensitive and allow for increased screening intervals. In the US, HPV tests are already used for widespread screening of asymptomatic women – aged 30 years and older – and this represents the largest market for this medical device."
Many European countries have also announced upcoming changes in government policies, which are expected to drive strong growth in their HPV tests markets; these include Germany, Italy, UK, Norway, and Sweden.