09 May 2020
Impact on international travel in UAE deepens but opportunity exists
Posted in
Travel & Tourism
Over the last three weeks, the impact on international travel plans has continued to climb. In a survey by GlobalData, 56% of respondents in the Emirates have had to cancel their upcoming international travel plans due to restrictions. The number of people that strongly agree with this statement increased by 2% over the past week, and by 8% since the week before. This reflects how global travel restrictions continue to hinder the ability to travel, but there also lies opportunity, says GlobalData, a leading data and analytics company.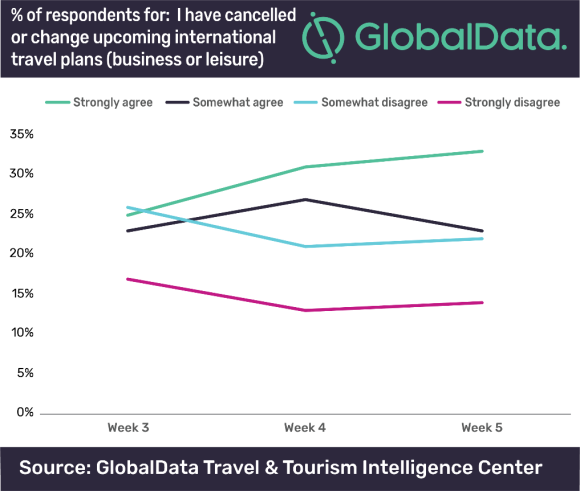 Johanna Bonhill-Smith, Travel & Tourism analyst at GlobalData comments: "Spending US$4.7bn on outbound travel in 2019 and having grown 5% from the year previous, the UAE is an emerging source market from the Gulf Cooperation Council (GCC). A passion to explore a variety of cultures means that Emiratis will likely prove a lucrative source market for destinations if they are targeted effectively.
"As airport procedures become more intense and time consuming, the cost of travel is also likely to increase. Time and money constraints are not a huge barrier to outbound travel for Emiratis, therefore, tourists are likely to venture to destinations further afield and spend longer periods of time away to make the trip worthwhile."
Europe is perceived as a generally trustworthy destination among Emirati travellers, suggesting there is a promising outlook for future travel between these regions. The UK and Germany are already part of the top ten international departures for the UAE, but it is clear that there is more opportunity for market development. As social media usage continues to grow across the destination, DMO's should leverage this opportunity to make contact with this high-yielding traveler.
Bonhill-Smith continues: "As June approaches – the most popular month of travel for Emirati travellers – the ongoing impact on international travel is likely to worsen. International trips (5.1 million in 2019) exceed domestic (4.01 million in 2019) in the UAE but travel restrictions and lockdown procedures have affected both. Brands can still use this time effectively to build relationships and connect with their consumer base. Personalized and digital content bodes well with the Emirati traveler.
"The majority of outbound departures look to neighbouring destinations such as the Kingdom of Saudi Arabia, a country that 830,000 Emiratis visited in 2019. Shared cultural values, bilateral relations and geographical proximity drive the relationship between these destinations. The Middle East region is one of the least affected by the global outbreak of COVID-19 however, Saudi Arabia holds the second highest number of confirmed cases, and Saudi Arabia and the UAE display a high level of mutual dependence for inbound visitation. Therefore, tourism bodies in these countries should look to collaborate to heal woes and encourage future demand".