07 May 2020
M&A activity in North America consistently declined during Q1 2020 as COVID-19 impacted deals
Posted in
Business Fundamentals
The number of mergers and acquisition (M&A) deals in North America consistently declined during the first quarter (Q1) of 2020, from 1,178 in January to 1,024 in February and 820 in March, according to GlobalData, a leading data and analytics company.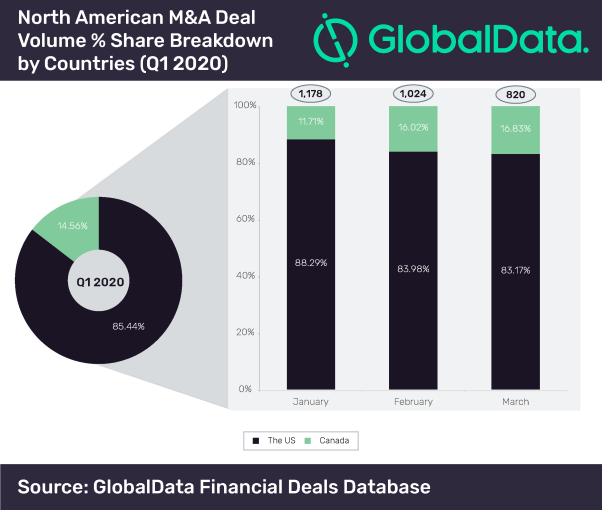 While the corresponding deal value registered growth at the start of Q1, the COVID-19 pandemic caused a decline towards the end of the quarter. Deal value rose from US$48bn in January to US$69.6bn in February, before declining to US$60.5bn in March.
Aurojyoti Bose, Lead Analyst at GlobalData comments: "The slowdown in deal activity in North America can be attributed to the COVID-19 outbreak prompting a more cautious approach from acquirers when considering big investments."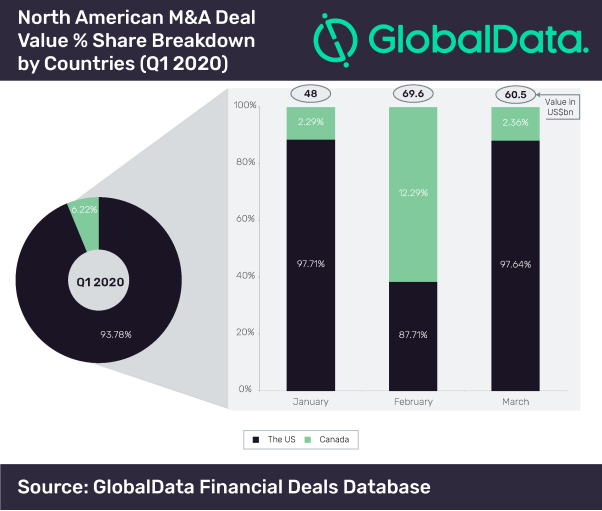 The US and Canada accounted for 85.4% and 14.6% of total deal volume in Q1 2020, while accounting for 93.8% and 6.2% of total deal value, respectively.
Some of the notable M&A deals announced during Q1 2020 include the merger of Willis Towers Watson and Aon for more than US$30bn and the acquisition of 100% stake in E*TRADE Financial by Morgan Stanley for US$13bn.
Bose continues: "Though North America showcased a decline of 13% in March 2020 in terms of value, the decline would be much wider upon excluding the Willis Towers Watson-Aon merger deal."
March also witnessed decline in a number of high value deals. The number of M&A deals worth more than or equal to US$100m decreased from 66 in February 2020 to 29 in March 2020. The number of deals in this value range decreased in the US and Canada, from 59 and seven in February 2020 to 27 and two in March 2020, respectively