11 Dec 2019
Oman to emerge as key GCC travel destination as international arrivals increase
Posted in
Press Release
Oman is a rising gem in the inbound Gulf Cooperation Council (GCC) traveler market with international arrivals having grown a total of 11.2% between 2017 and 2018, reaching 2.7million, says GlobalData, a leading data and analytics company.
Johanna Bonhill-Smith, Travel and Tourism Analyst at GlobalData says: 'By the end of 2019, the International Air Transport Association (IATA) predicted that Omani aviation will have grown by 40%. A new terminal at Muscat International airport at US$1.8bn, followed by a new domestic airport terminal at Duqm outlines the country's plan for expansion. Holding a variety of greenery and natural offerings, not commonly found within other GCC destinations, Oman is becoming more widely recognised as a leisure destination."
GlobalData's latest report, 'Tourism Destination Market Insight – GCC', reveals that inbound travel for both visiting friends and relatives (VFR) and leisure are set to grow rapidly into Oman between 2018 and 2022 at a compound annual growth rate of 8.8% for VFR and 8.8% for leisure.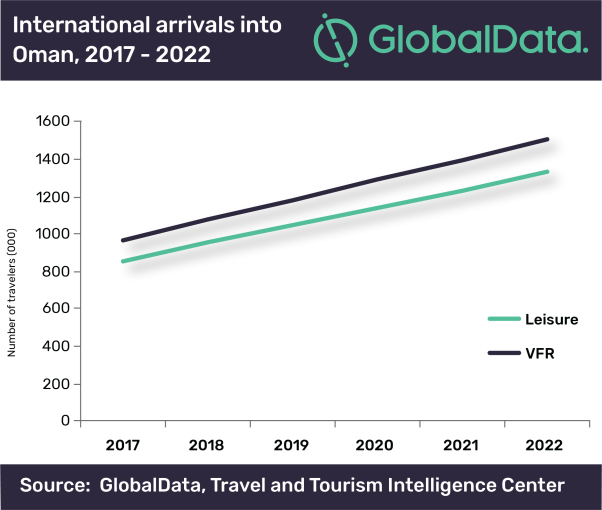 Image for publication: Please click here
Bonhill-Smith adds: "VFR has and will continue to take up a large amount of the inbound traveler market into Oman. However, since 2017, inbound leisure travelers are increasing at a similar rate.
"Major source markets look to neighbouring countries, with both the United Arab Emirates (UAE) and India taking up close to 20% of the international arrival market share. This is typically due to VFR with a large amount of expats traveling between countries explaining the continuous growth of the VFR market.
"Islam is still the predominant religion, yet Oman's Islamic rules tend to be not as strict as other GCC states, which also spurs a steady pace of inbound travelers."
Looking further afield, there has been a growth across emerging European destinations such as the UK, Germany, France and Italy, which all featured in the top ten international arrivals in 2018.
Bonhill-Smith continued: "In GlobalData's Q3 2019 global consumer survey, 29% of people across Europe stated that they were looking to take a cultural holiday in 2019, while GlobalData's Q4 2018 survey found that 27% of travellers were looking to venture to a different part of the world as part of their trip. This further illustrates the growing market potential of inbound travel from Europe into Oman.
"With continual expansion and projects taking place across the destination to increase passenger flow, authorities should now look to develop more long haul routes across Europe to further drive the growth of the inbound leisure market."