17 Dec 2018
Pneumatic compression therapy global market projected to reach $624.3m by 2028
Posted in
Press Release
The global pneumatic compression therapy market is expected to reach $624.3m by 2028, growing at a Compound Annual Growth Rate (CAGR) of 4.9% between 2018 and 2028, according to GlobalData, a leading data and analytics company.
The company's latest report, 'Pneumatic Compression Therapy, Global Outlook, 2015-2028' reveals that North America will be one of the fastest growing regions at a CAGR of 6% between 2018 and 2028, with Asia Pacific and the Middle East & Africa following closely behind at 4.2% and 4.0% respectively.
Lower pneumatic compression sleeves remain the largest market category; however the segmented pumps without a gradient are gaining market share with an expected CAGR of 7.1% over the period.
Jennifer Ryan, Senior Medical Devices Analyst at GlobalData comments, "The increasing prevalence of venous diseases which stem from obesity and increasingly sedentary lifestyles is driving the market. Pneumatic compression is able to be used for home care, and provides faster healing when compared with static compression therapy."
Barriers to market growth include the availability of alternative therapies for edema reduction and lack of awareness in developing markets.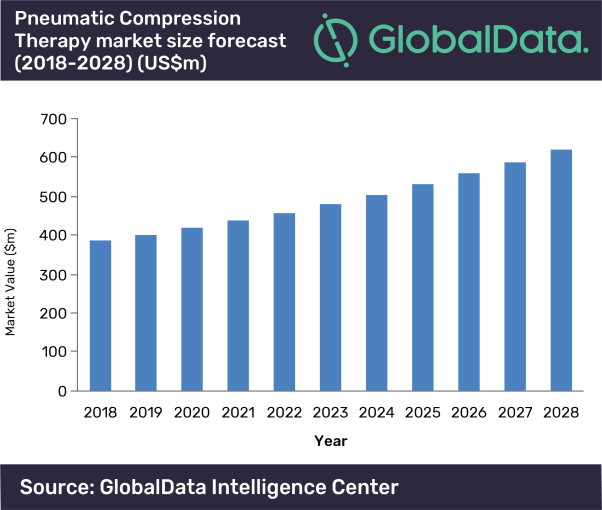 Ryan concludes, "The market for segmented pumps with calibrated gradient is expected to maintain leadership among compression pumps throughout the forecast period, as these devices can be tailored to patients' specific needs and comfort."