30 Oct 2020
Poland's high positive COVID-19 test rate indicates that it is not ready to ease social distancing measures
Posted in
Pharma
COVID-19 death rates in Poland have increased at an alarming pace since early April, from 4.7 deaths per million population to over 100, as of October 20. This indicates that the country is not yet ready to ease social distancing measures and should consider implementing restrictions to slow the spread of disease before attempting to reopen the economy, says GlobalData, a leading data and analytics company.
There are now more than 192,000 confirmed cases of COVID-19 and more than 3,700 deaths due to COVID-19 in Poland. The number of cases in the country has increased by more than 9,200 since 19 October.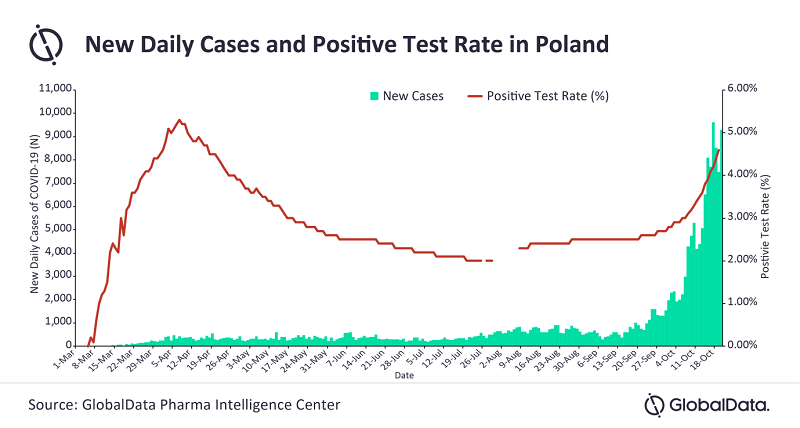 Ana Fernandez Menjivar, Pharma Analyst at GlobalData, comments: "Poland's strict lockdown measures were gradually lifted from April through June. The country began to record an increase in new cases towards mid-September, and, since then, cases have surged dramatically – creating a second wave much worse than the first."
Poland appears nowhere near the peak, as approximately 50% of all confirmed cases were reported in the last two weeks. The outlook for the future remains uncertain, as Poland continues to report record highs of new daily cases.
Menjivar adds: "Increased testing may be contributing to the higher number of daily confirmed cases. However, an increase in the positive test rate from approximately 2% in the last week of July to 4.6% on 19 October suggests higher transmission, and that there are likely more people with COVID-19 in the community who haven't yet been tested."