05 Feb 2019
Polyvinyl Chloride capacity in India will grow at a CAGR of 13.6% over next six years, says GlobalData
Posted in
Press Release
India's Polyvinyl Chloride (PVC) plant capacity is forecasted to grow at a compound annual growth rate (CAGR) of 13.6% from 1.498 million tonnes per annum (mtpa) in 2017 to 2.833 mtpa in 2022, according to GlobalData, a leading data and analytics company.
The company's report: 'Polyvinyl Chloride (PVC) Industry Outlook in India to 2022 – Market Size, Company Share, Price Trends, Capacity Forecasts of All Active and Planned Plants' reveals that four upcoming projects: Reliance Industries Dahej PVC Plant 2, Reliance Industries Dahej PVC Plant 1, Reliance Industries Hazira PVC Plant and Reliance Industries Vadodara PVC Plant with a capacity of 1.200 mtpa, 0.045 mtpa, 0.050 mtpa and 0.040 mtpa, respectively are expected to commence their production by 2022.
The largest PVC plants in India in 2017 were Reliance Industries Hazira PVC Plant, Reliance Industries Dahej PVC Plant 1, Finolex Industries Ratnagiri PVC Plant 1, Chemplast Sanmar Cuddalore PVC Plant and DCW Sahupuram PVC Plant.
Dayanand Kharade, Oil & Gas Analyst at GlobalData, explains: "PVC demand in India is expected to grow strongly from agriculture and construction sectors. To meet the growing demand and reduce import dependence, India is set to expand its PVC capacity.­"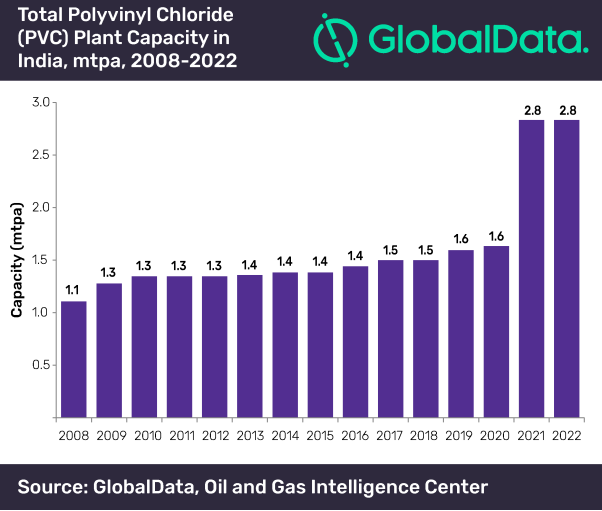 IMAGE FOR PUBLICATION – Please click this link for the chart: 'Total Polyvinyl Chloride (PVC) Plant Capacity in India, mtpa, 2008-2022'
Reliance Industries Ltd, Finolex Industries Ltd, The Sanmar Group, DCW Ltd and DCM Shriram Ltd together accounted for 100% of the PVC capacity in India in 2017.
The main sectors that consume PVC in India are Agriculture, Construction, Electrical and Packaging. In 2017, these sectors accounted for almost 94% of the PVC demand in the country.
The average price of PVC in India is expected to increase at a CAGR of 1.8% from $883.8/ton in 2017 to $966.7/ton in 2022.
During 2008 to 2017, India has been a net importer of PVC. According to GlobalData outlook, it is expected to continue on similar trend with imports being higher than exports until 2022.
Imports as percentage of demand in the year 2008 was 26.8%. According to GlobalData forecasts, imports as percentage of demand is expected to decrease from 59.5% in 2017 to 45.9% in 2022.