24 Apr 2020
Profitability of UK banks to suffer but retail deposits will rise post-COVID-19
Posted in
Banking
Banks' profitability is set to be hit as fee income will fall because of decreased consumer spending, net interest margins will remain low, short-term costs will rise and delinquency rates will rise, says GlobalData, a leading data and analytics company. However, retail banks are likely to see immediate, and then more long term, increases in retail deposits.
Resham Karira, Retail Banking Analyst at GlobalData, comments: "The savings and investments market is set to be extremely volatile in the immediate future, which will lead to consumers opting for safer, more predictable investments. Therefore, we expect retail deposits to rise in 2020, and up to 2023.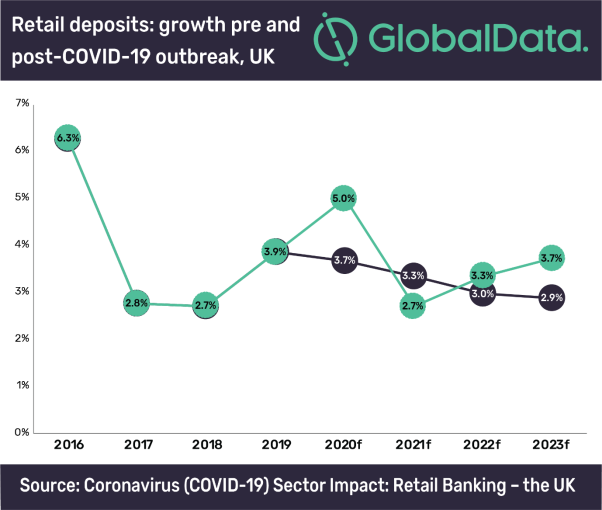 GlobalData's post-COVID-19 amended forecasts reflect this, as expected retail deposit growth in 2020 has been revised up from 3.7% compound annual growth rate (CAGR) to 5.0%. Although the revised forecasts dip slightly below the company's previous ones in 2021 and 2022, the revised expectations increase to 3.7% CAGR in 2023 (compared to the original 2.9% rate).
Loan growth is also set to decline as consumer spending declines and consumer's cut back on discretionary spending.
Karira concludes: "There will be a sharp initial fall in consumer loans, but an improvement in consumer confidence will support demand for credit. Therefore, consumer loans will recover gradually over the next few years. Government funding and the bank of England's support to lenders will help, but it is uncertain whether there will be sufficient appetite for credit to drive anything more than marginal increases."