26 May 2020
Prolonged lockdown to push major economies into recession, says GlobalData
Posted in
Coronavirus
Lockdown measures to combat COVID-19 have significantly impacted economic activities worldwide resulting in rampant job losses. Real GDP growth of major economies such as the US, Eurozone, Russia, South Korea and Australia is forecasted to contract sharply in 2020. However, most economies are expected to witness a V-shaped recovery of GDP growth in 2021, says GlobalData, a leading data analytics company.
As of mid-March, all the major cities across the globe entered lockdown with severe restrictions on movements to slow the spread of COVID-19. These restrictions dealt a terrible blow to sectors such as tourism, retail, manufacturing and foodservice. Governments worldwide are now considering several measures to salvage the destruction caused in the economy.
According to GlobalData forecasts, economies are expected to witness an unparalleled contraction in 2020. These include the US (by -5.0%), Japan (-5.1%), Germany (-6.6%), France (-8.6%), Spain (-7.9%), Italy (-10.0%), the UK (-8.2%), Russia (-4.2%), Canada (-6.5%), Iran (-5.5%) and Australia (-5.3%). According to the US Bureau of Labor Statistics, unemployment in the US rose to 14.7% in April 2020, up from 4.4% in March with more than 36 million people filing for unemployment benefits in the last two months. Canada is second highest with 13% rate of unemployment and 2 million job losses in April, followed by Australia with a 5.2% increase in March.
Shruti Upadhyay, Economic Research Analyst at GlobalData says: "Lockdown and curbs on business activity in the major economies has resulted in mounting unemployment numbers. Weaker firms in each country are observing cash flow shortages leading to more pay cuts and job losses. Job losses resulted in lower income of the masses, resulting in a shrink in domestic demand globally. Although governments have put both fiscal and monetary measures in place to support struggling businesses and revive the economy, recovery may come at a slower pace."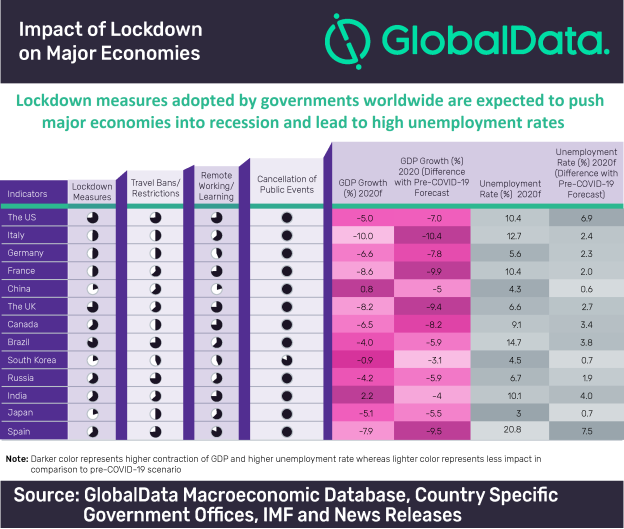 The amalgamation of both supply side shocks with supply chain disruptions due to lockdown measures and consequent demand-side shocks due to retrenchment of household expenditure and hastily swelling unemployment has led to heightened contraction in the GDP growth to the brink of economic meltdown. GlobalData forecasts global GDP growth will witness an unparalleled contraction to -1.9% in 2020, a downward revision of -4.46% from the previous forecast.
Upadhyay continues: "The eye-watering fall in the PMI of various countries such as China, India, the US and Eurozone due to nationwide prolonged lockdowns in various regions was witnessed in the first quarter of 2020."
Some countries across Europe such as Germany, France, Ireland, Belgium, Spain and Italy have begun partially easing the lockdown. Austria and Denmark have reopened schools and Germany has almost eased all the restrictions with the reopening of shops and allowing outdoor exercise. Italy has allowed domestic travel and retail and museums to open since May 18, 2020.
As the economies reopen and the pandemic growth flattens coupled with the effect of the various stimulus packages, the recessionary trends are anticipated to give way for robust economic growth in most of the economies during 2021.
Upadhyay concludes: "The macroeconomic policy responses and stimulus measures introduced in various regions will cushion the near term shock experienced by the economies due to the spread of COVID-19, but with unprecedented increase in unemployment levels and growing pressures along with grim outlook for small and medium sized businesses in developing countries, the path to normalcy in 2021 is expected to remain sluggish."