28 Apr 2020
SAP revises outlook for 2020 amid COVID-19 lockdown; software license business most vulnerable
Posted in
Business Fundamentals
SAP's software license business Q1 2020 results have exposed the vulnerability of the European software company to the business climate emerging out of the COVID-19 pandemic, however the German enterprise resource planning (ERP) giant's competence in cloud platform could help it to sail through this period of troubled business climate, according to GlobalData, a leading data and analytics company.
According to SAP, the company's Q1 software license business slipped 31% in revenue compared to 2019. After a strong first two months, March saw a significant amount of new business being postponed due to rising COVID-19 cases worldwide. However, a 29% growth in cloud revenue partially offset the impact, with the company reporting a 7% overall sales growth.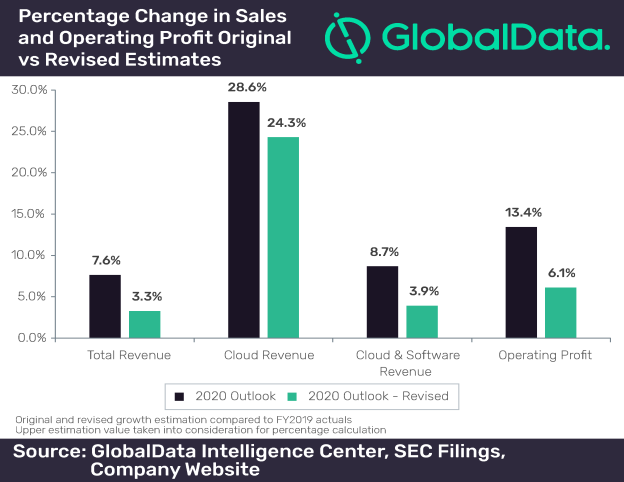 IMAGE FOR PUBLICATION – Please click this link for the chart
Keshav Kumar Jha, Company Profiles Analyst at GlobalData comments, "SAP's edge in collaborative cloud-based platforms and connected intelligence solutions enable businesses to solve issues related to supply chain and remote working, which are the daunting challenge posed by pandemic.
"Key initiatives such as SAP Ariba Discovery, which enables buyers and sellers to connect quickly and resolve procurement related issues, and the Qualtrics Remote Work Pulse, which allows organizations to understand the problems faced by employees while working remotely, will help SAP continue to stay more relevant for businesses and governments alike in a shrinking but competitive market – one of the challenging fiscals since its incorporation in 1972".