09 Dec 2020
Significant jump in number of non-endemic jersey sponsorships seen at the League of Legends World Championships
Posted in
Sport
Non-endemic 

jersey

 

sponsorships

 were responsible for 51% 

of

 all 76 recorded 

at

 

the

 

championship

s, up from 37% 

in

 2019
Non-endemic brands from 14 different sectors had 

the

ir logo on show on team 

jersey

s 

at

 

the

 event
Brands from 

the

 sportswear, automotive and energy drinks sectors were responsible for 20 (51%) 

of

 

the

 39 recorded 

non-endemic

 

jersey

 sponsors
The 2020 League of Legends World Championships brings together some of the biggest and most marketable esports organizations. A charted growth in non-endemic jersey sponsorship at the competition is a tangible sign that non-endemic interest in esports is increasing fast, says GlobalData, a leading data and analytics company.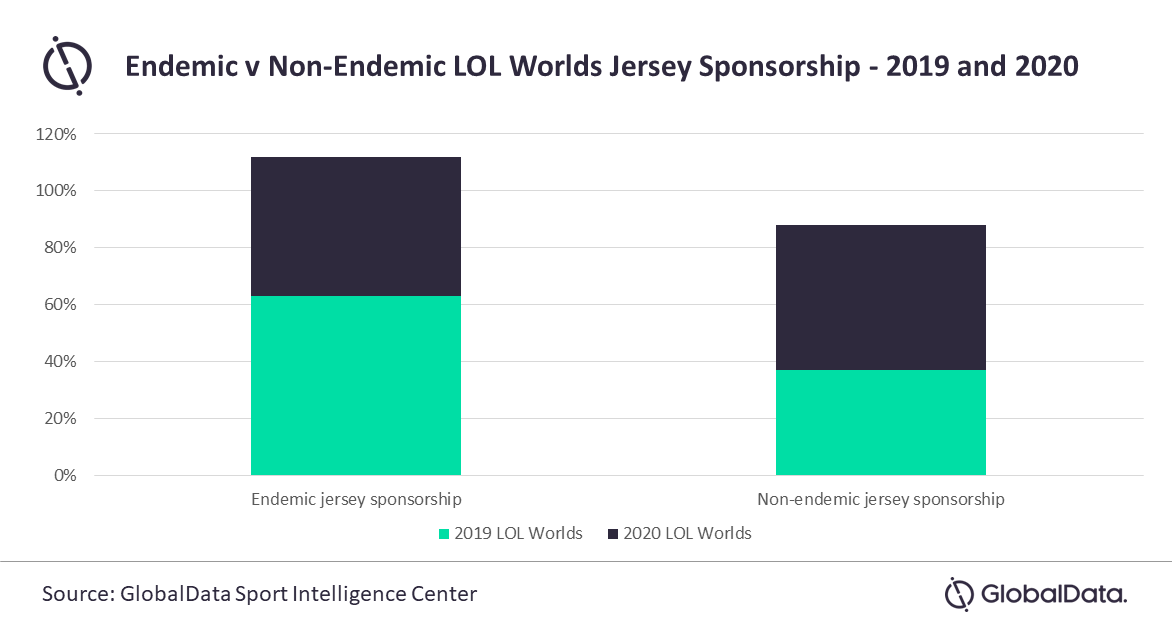 William Candy, Sports Analyst at GlobalData, comments: "Non-endemic jersey sponsorships were responsible for an incredible 51% of all 76 recorded at the championships. This is up from 37% in 2019. The data supports the sentiment of rights holders in esports at the moment; namely that growing viewership is triggering non-endemic brands to pay more attention to the space while they are also developing a greater understanding of the esports ecosystem."
Brands from the sportswear, automotive and energy drinks sectors were responsible for 20 (51%) of the 39 recorded non-endemic jersey sponsors
Candy continues: "While the sportswear, automotive and energy drinks sectors are the most committed non-endemic sponsors of esports right now, it is true to say that the esports sponsorship landscape has become hugely diverse. In fact, at this year's biggest esports event, GlobalData recorded non-endemic jersey sponsorships from 14 different sectors.
"The sponsorship of esports – especially League of Legends – provides access a passionate and traditionally hard-to-reach audience. This has become recognized by brands, especially those with a young consumer base, from all areas.
"Once a few brands from the same sector become involved, others will quickly follow. We have seen this in the automotive and sportswear area for example where an element of FOMO definitely prompted brands to follow rivals into the space. I only expect, therefore, the presence of non-endemic brands in esports to keep growing as long as the viewing figures continue to grab their attention."
Ben Cordwell, Travel & Tourism Analyst at GlobalData comments "The COVID-19 pandemic has been devastating for sports tourism. However, it has allowed e-Sports to thrive as consumers look for alternative forms of entertainment. According to Globaldata's COVID-19 Consumer Survey (26-31 May), 33% of respondents worldwide spent more time watching videos/v-logs about product usage during the pandemic. Streaming services like Twitch allow viewers to watch as their favorite gamers play in real time, making it is easy to see how e-Sports has grown in popularity.
"It is highly likely that e-Sports will continue to grow in the aftermath of COVID-19. High-profile events have previously been attended by tens of thousands of fans and I except this to be repeated once it is safe to do so. This provides a unique opportunity for tourism companies and could help aid recovery."