15 Mar 2019
Spanish outbound tourism set to be worth US$64bn by 2021, says GlobalData
Posted in
Press Release
Spanish outbound tourism is expected to grow from US$47.9bn in 2019 to US$64bn in 2021, expanding at a compound annual growth rate (CAGR) of 15.6%, according to GlobalData, a leading data and analytics company.
GlobalData's latest report; 'Tourism Source Market Insight: Spain – Analysis of tourist profiles & flows, spending patterns, destination markets, risks and future opportunities', reveals that Spain's economy has been growing for 17 consecutive quarters. As a result of this, Spanish tourists will have an increase in disposable income to travel abroad, reflected by GlobalData's high growth forecast.
Ralph Hollister, Travel and Tourism Associate Analyst at GlobalData, commented, "After major reforms in the Spanish economy earlier this decade, Spain has well exceeded its pre crises level of gross domestic product in 2008. The combination of a decrease in unemployment rate, increase in pay and the rise of low-cost carriers (LCC's) means outbound travel is now financially possible for a much higher percentage of the Spanish population."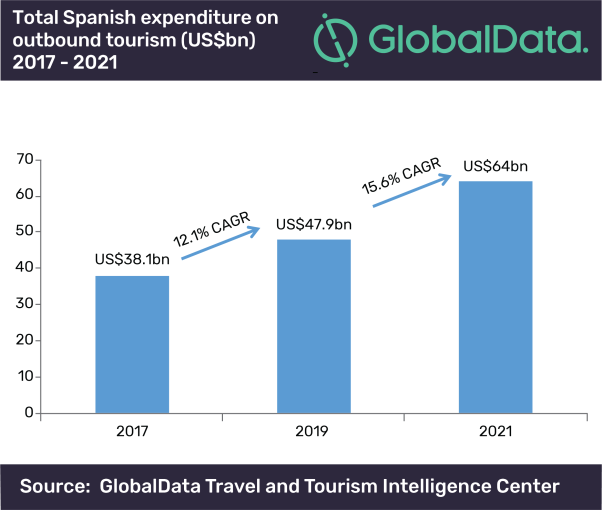 IMAGE FOR PUBLICATION: Please click here for chart
From 2017 to 2019, expenditure grew exponentially at a CAGR of 12.1% from US$38.1bn to US$47.9bn. This dramatic rate of growth indicates the growing profitability of Spain as a tourism source market. Spain's increasing growth in outbound expenditure is one of the highest in Europe. The country's forecast CAGR of 15.6% is more than double the growth of particular G7 countries between 2019 and 2021, such as France and Italy.
GlobalData forecasts that Spanish outbound spending will start to increase at a higher rate on sightseeing and entertainment activities. The country's financial situation going from strength to strength enables Spanish tourists to spend more money on 'add-on' activities such as these. 
Hollister continues, "Spanish tourists have travelled domestically for years, to regions such as Andalusia for sun and beach holidays due to financial restrictions and a lack of desire for new experiences. Now, due to social media and the millennial market segment becoming more prevalent, Spanish tourists are visiting cities all over Europe in search for different cultural experiences through entertainment and sightseeing activities."
Whilst outbound tourism expenditure is expected to grow continuously for years to come, domestic overnight stays are expected to slow down in 2021. This forecast may be as a result of usual domestic tourists now utilising LCC's to travel internationally.
Hollister adds, "New Spanish LCC's such as Vueling are making destinations such as Latin America more attractive with new routes. The stereotypical cost conscious Spanish tourist who needs affordability and accessibility will be attracted to these airlines who can offer them value for money and a direct route to long-haul destinations." 
Information based on Globaldata's report:  Tourism Source Market Insight: Spain – Analysis of tourist profiles & flows, spending patterns, destination markets, risks and future opportunities