08 Aug 2019
Uruguay telecom market is one of the most developed in Latin America in terms of NGN infrastructure development and service adoption, says GlobalData
Posted in
Uncategorised
Total telecom and pay-TV services revenue in Uruguay will expand at a compound annual growth rate (CAGR) of 2%, in local currency terms, between 2018 and 2023 driven by the increasing demand for mobile data, fixed broadband and pay-TV services, says GlobalData, a leading data and analytics company.
Eulalia Marin-Sorribes, Technology Analyst at GlobalData, comments: "Mobile data service's contribution to total service revenue in Uruguay will increase from 26% in 2018 to 36% in 2023."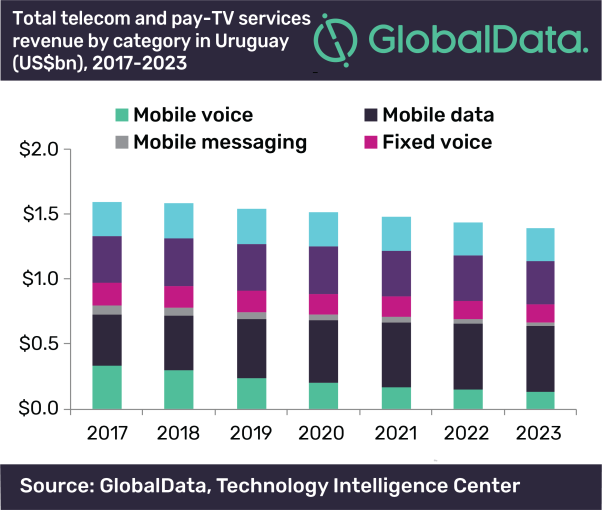 The mobile data segment will not only be the largest revenue contributor but also the fastest growing, expanding at a CAGR of 9% over 2018-2023.
Marín-Sorribes continues: "Growth will be supported by the increasing demand for mobile data services, particularly over smartphones, and the rising adoption of 4G and 5G mobile broadband services with higher average revenue per user (ARPU)."
In April 2019, state-owned incumbent operator Antel announced it had activated its 5G network in the department of Maldonado, using spectrum in the 28GHz band. The move positions Antel as the first operator in Latin America to launch 5G services, an advantage it also claimed in 2011 when it became the first regional player to launch 4G services. Although its 5G network is not yet fully commercially available, the move evidences Uruguay's technological advantage in the region.