30 Nov 2020
US cannot wait on vaccines to curb pandemic as COVID-19 cases trend towards 100 million by July 2021
Posted in
Coronavirus
If the current trend in US COVID-19 cases continue, over 30% of the US population will have contracted the virus by July 2021, according to GlobalData forecasts
Given that vaccines will need many more months to be approved, manufactured, and distributed to the general population, the US cannot rely only on vaccines to curb the pandemic
In the last week, the rise of COVID-19 cases in the US trended at 0.6% daily growth. If these trends continue, the country will see more than 200,000 daily new cases by the end of December 2020 and a staggering 675,000 daily cases by mid-July 2021. The country cannot simply wait for a vaccine that would take months to be manufactured and distributed, and must take immediate action to slow disease spread, says GlobalData, a leading data and analytics company.
Kasey Fu, Director of Epidemiology at GlobalData, comments: "COVID-19 outbreaks have shown to grow at an exponential speed in situations where precautions are not in place or are not effective – as is the case in the US right now. Even under a low-level transmission scenario, 100 cases on day one can snowball to 2,200 cases by day 14 and 45,000 by day 30. In fact, the US saw daily new cases in the last month increase from around 45,000 to around 160,000.
"This COVID-19 forecast model does not include re-infections. As more reports of re-infections have been confirmed, it is likely that the pandemic will rage on even longer, resulting in even higher numbers of total cases that will cause significant healthcare strain and disruptions to normal life."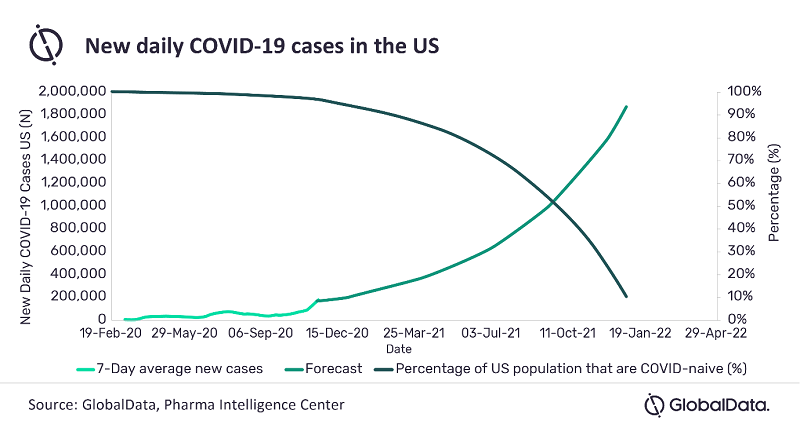 COVID-19 vaccine trials conducted by Pfizer and BioNTech and by Moderna released positive findings of vaccine effectiveness in US subjects.
Fu continues: "The excellent results from vaccine trails deserve celebration, however, COVID-19 statistics in the US remain grim. The public must not become complacent after the recent vaccine efficacy announcements because, if the current outbreak situation is not controlled in the immediate weeks, many more lives will be lost before the vaccines are made available to the general public."
Many cities and states across the US are re-initiating lockdown measures and the Centers for Disease Control and Prevention (CDC) have issued warnings against unnecessary travel and gatherings for the upcoming holiday season.
Fu adds: "While lockdowns are effective in slowing down infection in the short term, they are harmful to society in other ways and cannot be sustained for long. The US cannot rely on either lockdowns or vaccines alone. This pandemic needs to be controlled through multiple strategies."