16 Apr 2020
France cash transactions set to decline to 2023 and consumer spending deteriorates
Posted in
Banking
France's payments industry will be hit by ongoing disruption to its essential tourism industry, though e-commerce is seeing increases, says GlobalData.
GlobalData's post-COVID-19 revised-forecasts predict cash transactions will change from steady growth to yearly declines between 201 and 2023. Cash transactions are now set to fall at a compound annual growth rate (CAGR) of -2.3% up to 2023.
Ravi Sharma, Banking and Payments Analyst at GlobalData, commented: "The French tourism industry is particularly reliant on Chinese consumers, as 2.2 million visitors per year spend $4.4bn (in 2019, according to the French Government.) There have been no Chinese visitors since February, which will mean a drastic reduction in consumer spend."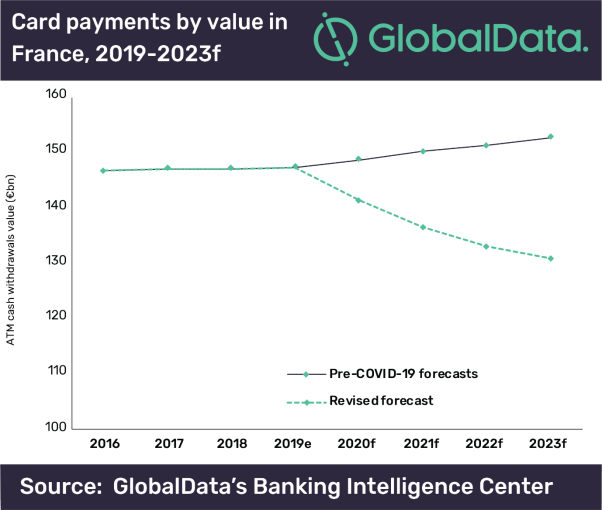 France is further along than the UK, having been in lockdown since 16th March. All restaurants, cafes, bars, shopping malls, museums and entertainment venues have been shut since the 14th March, meaning that consumer spending has already dipped significantly. Key retailers such as Carrefour are open for online and payments and delivery, meaning that card payments and online checkout solutions have held up better than cash transactions.
Sharma continues: "Payments companies will lose out on significant business in consumer spending from sectors such as travel and tourism, accommodation and retail. It is essential to them that the outbreak is contained at the earliest. They will be watching countries ahead of France in the curve, such as China and South Korea, to see how things evolve when they relax the severe lockdown measures."
Information based on GlobalData's webinar:Covid-19 Sector Impact: Payments Snapshot – France report