31 Aug 2018
Merck & Co can expect strong sales of Doravirine-based Drugs after Double-Approval, but not Blockbuster Status, says GlobalData
Posted in
Press Release
Following the announcement that Merck & Co has been granted FDA approval for two HIV drugs, Delstrigo (doravirine / lamivudine / tenofovir disoproxil fumarate) and Pifeltro (doravirine),
Thomas Moore, Senior Pharma Analyst at GlobalData, a leading data and analytics company, offers his view:
''This approval comes at a good time for Merck & Co, which will be looking to mitigate an anticipated drop in sales for its HIV portfolio due to an erosion of market share for the Isentress franchise due to competition from other drugs and the future launch of generics. Although the combined sales of Delstrigo and Pifeltro are unlikely to match the highly successful Isentress, they are still expected to be well received by physicians, aided by the inclusion of treatment-naïve patients in yesterday's FDA indication.
''A GlobalData report, PharmaPoint: Human Immunodeficiency Virus (HIV) – Global Drug Forecast and Market Analysis to 2025, forecasts the combined sales of these drugs to reach approximately $500M across the *7MM by 2023. Of the two drugs, the fixed-dose combination therapy, Delstrigo, is expected to see the most success in terms of annual sales, and is forecast to have peak 7MM annual sales of $369M in 2023, versus $144M in 2025 for Pifeltro. As a fixed-dose combination therapy, Delstrigo provides a more convenient dosing regimen to HIV patients, who are nearly always prescribed three-drug cocktails to keep the disease suppressed.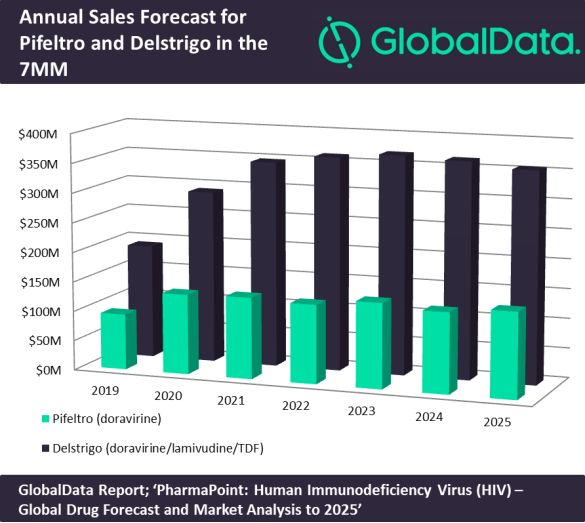 IMAGE FOR PUBLICATION: Please click link for chart: 'Annual sales forecast for Pifeltro and Delstrigo in the 7MM'
"Merck have indicated that they will be pricing Delstrigo at $70 per day, while Pifeltro will be priced at $46 per day. This places Delstrigo at the lower end of three-drug combination therapies for HIV, which are typically priced at $70-80 per day. Merck will be hoping that this pricing strategy will give them a competitive edge over products from other companies in the HIV space, such as Gilead's Genvoya and ViiV's Triumeq, which are sold towards to top end of this price range."
*7MM = US, France, Germany, Italy Spain, UK, and Japan