29 Oct 2020
Organic producers stand to gain from increased environmental concerns during COVID-19 pandemic
Posted in
Consumer
Concern for the environment has remained of great importance to consumers during the COVID-19 pandemic. Approximately *13% of UK consumers claim that how environmentally friendly, sustainable or ethical a product or service is always influences their product choice, and a further *59% say that it often or somewhat influences their product choice, according to a recent survey by GlobalData, a leading data and analytics company.
The Environment Agency (EA) recently revealed that no English river passed tests for chemical pollution, while plant grower and importer Bakkavor was discovered discharging neonicotinoid pesticides into a protected chalk stream. Such companies are under threat of a consumer backlash, prompting trading up for organic produce. The UK environment watchdog is now examining more than 50 sites that supply salad and vegetables to supermarkets.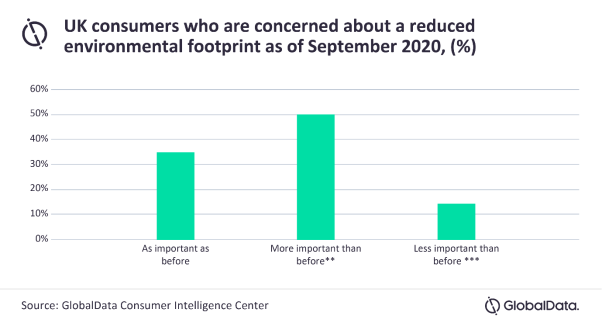 Ryan Whittaker, Consumer Analyst at GlobalData, comments: "If the companies providing UK consumers with veg are also poisoning the water, this can reflect badly on the supermarkets in their relationship with the consumer and could prompt consumers to shop elsewhere. Scandals like these provide an opportunity for organic growers, whose pesticide-free produce may be able to capitalize on the failures of more conventional farming practices.
"Organic is a hard sell in an economic downturn, but public concern for the environment has risen during the pandemic, so it may be able to convince a few consumers to trade up. GlobalData found that on average *9% of UK consumers claim that a reduced environmental footprint is now their top priority.
"The more concerned about the pandemic, the more likely the consumer will prioritize the environment. GlobalData found that approximately 41% of consumers describe themselves as 'extremely concerned' about the pandemic. From this group of consumers, the proportion of consumers who consider the environment their number one priority rises to *14% and a further *24% say that it is significantly more important to them than before the pandemic. It makes sense to suggest that as the public attention focuses on the second wave and concerns increase, interest in more environmentally conscious products, such as organic food and drink, will also increase in the UK."
* Covid-19 recovery tracker consumer survey, week 8, 23rd September 2020