Sweden's retail investment mix is well diversified compared to other markets, meaning high allocations in equities and mutual funds will lead to significant contractions in 2020, says GlobalData, a leading data and analytics company.
GlobalData expects the overall retail savings and investments market to decline by 5.4% in 2020, compared to the company's pre-COVID-19 forecast of 5.5% growth. This decline will be led by GlobalData's retail equities holdings forecast which is set to decline by 21% in 2020, from a 6.2% growth projection prior to the pandemic.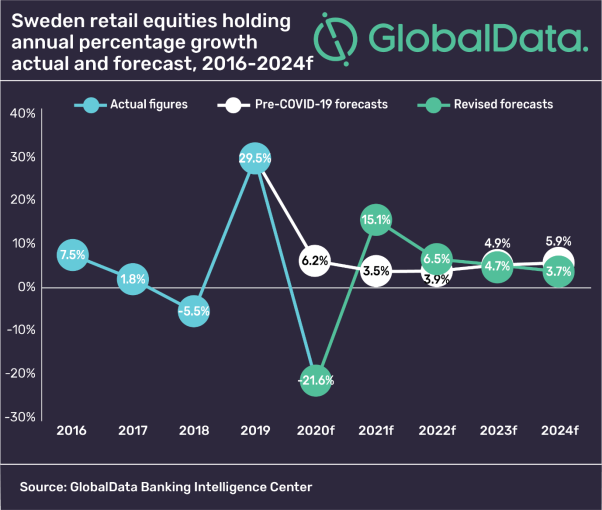 Andrew Haslip, Head of Wealth Management at GlobalData, commented: "The relatively stable deposit holding of Swedes is expected to grow faster in 2020 than previously forecast, as investors prioritize wealth conservation in light of the volatile securities markets. Previous recessions, such as after the global financial crisis of 2008, saw a marked turn towards deposits by Swedish households. A similar trend is  expected in 2020 even though the extremely low interest rates on offer in the Swedish banking system means money parked in almost any type of bank account will earn very little return.
"The relatively large fiscal packages passed by the Swedish government to mitigate the effects of COVID-19 (amounting to up to 14.9% of GDP), along with the lack of a severe lockdown – should ensure household savings are relatively insulated from some of the damage expected in other countries."
Information based on GlobalData's report: Covid-19 Sector Impact: Retail Savings & Investments – Sweden