11 May 2020
Barclays is top financial adviser in power sector by deal value in Q1 2020
Posted in
Banking
Barclays is the top financial adviser for mergers and acquisitions (M&A) deals in the power sector by deal value in Q1 2020, having advised on four deals worth US$9.62bn, according to GlobalData, a leading data and analytics company.
GlobalData, which tracks all M&A, private equity/venture capital and asset transaction activity around the world, confirmed that Morgan Stanley finished in second position, with two deals worth US$6.4bn, and RBC Capital Markets came third with three deals worth US$5.2bn.
Aurojyoti Bose, Financial Deals Analyst at GlobalData, says: "Deal activity in the power sector remained subdued in both value and volume terms in Q1, and none of the advisors were able to cross the US$10bn mark. While Q1 2019 witnessed the announcement of 13 deals valued less than or equal to $1bn, Q1 2020 saw only eight such deals. The total value of deals advised by three of the top ten firms by volume was even less than US$100m."
Barclays achieved seventh position in the recently released global league table of top 20 M&A financial advisers by GlobalData. Goldman Sachs topped this ranking, followed by JP Morgan.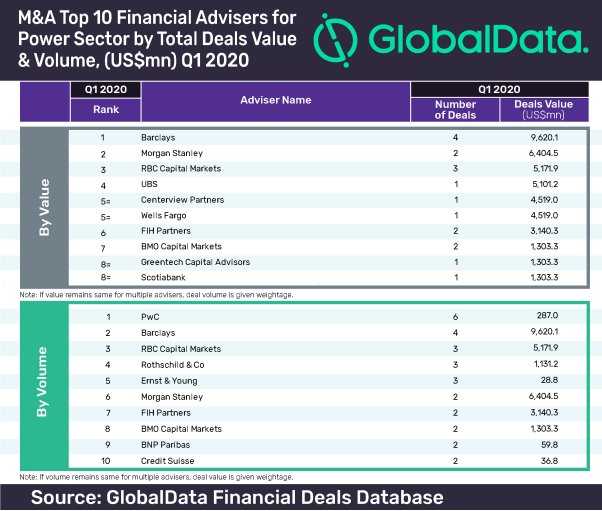 PwC was the top M&A financial adviser for the power sector in Q1 2020 based on deal volume. The firm advised on six deals worth US$287m. Barclays occupied second position with four deals, followed by RBC Capital Markets with three deals worth $5.17bn.
The total deal value in the power sector plunged by 28.38% from US$59.5bn in Q1 2019 to US$42.6bn in Q1 2020. The sector saw 511 deals in Q1 2020, a decrease of 24.74% from 679 deals in Q1 2019.