21 Jan 2020
Goldman Sachs leads GlobalData's M&A financial adviser league table in oil and gas sector
Posted in
Press Release
Goldman Sachs has secured the top position in the latest mergers and acquisitions (M&A) league table of the top 10 financial advisers for the oil and gas sector based on deal value for 2019, according to GlobalData, a leading data and analytics company.
The American multinational investment bank topped the rankings with a deal value of US$227.8bn, by advising on 24 deals in 2019. Citigroup stood at second position with US$187.0bn earnt on 36 deals.
According to GlobalData, which tracks all M&A, private equity/venture capital and asset transaction activity around the world to compile the league tables, Bank of America occupied third place with 28 deals worth US$186.6bn.
Praveen Kumar Karnati, Financial Deals Analyst at GlobalData, says: "Saudi Aramco's agreement to acquire a 70% stake in Saudi Basic Industries from Public Investment Fund for approximately US$73.9bn was instrumental in determining the top rankings of financial advisers in the oil and gas sector. The top four financial advisers were involved in this transaction."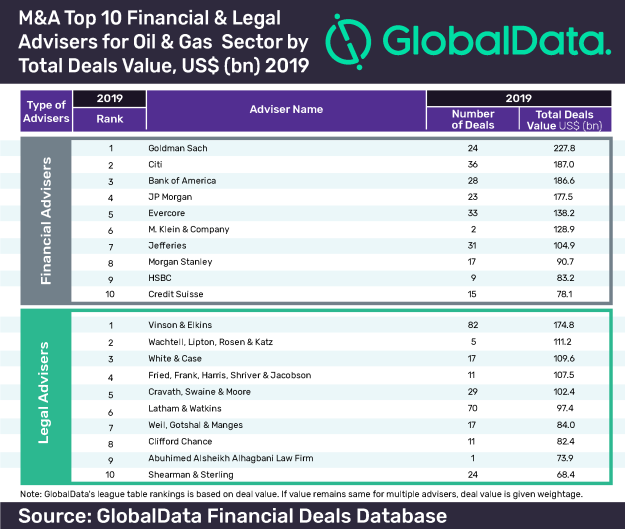 IMAGE FOR PUBLICATION: Please click here for enlarged chart
Global oil & gas deals market in 2019
The oil and gas sector saw a decrease in deal value by 19.68% from US$571.94bn in 2018 to US$459.39bn in 2019. Deal volume declined by 18.87% from 2,771 to 2,248.
Goldman Sachs, which topped the sector table, also topped GlobalData's recently released global league table of top 20 M&A financial advisers. Citi secured fourth position in the global list.
Vinson & Elkins leads top 10 M&A legal advisers list
Vinson & Elkins led the top 10 legal advisers table for 2019 with a total deal value of US$174.8bn on the strength of 82 deals. Second-ranked Wachtell, Lipton, Rosen & Katz advised on five deals worth US$111.2bn. White & Case came in a close third with US$109.6bn through 17 deals.
Top 10 leader Vinson & Elkins secured twentieth position in GlobalData's recently released global league table of top 20 M&A legal advisers. Wachtell, Lipton, Rosen & Katz topped the global list.