A slip in net income and revenue driven by lockdowns during the quarter affected most of FAANG's sentiments, says GlobalData, a leading data and analytics company.
According to Globaldata's Filing Analytics platform, sentiment scores for Facebook, Amazon and Google declined by more than 20% in Q1 2020 (compared to Q4 2019), while Netflix, witnessed only a low single-digit decline. Similarly, Apple's sentiment score declined by more than 15% during the quarter.
In the case of Facebook, Amazon, Apple and Google, a hit to revenues and net income affected sentiments. While Netflix, unlike its peers, saw a growth in revenue during the quarter, as lockdowns caused a growth in subscribers. However, the management's negative comments on its future outlook caused a sentimental downturn.
Advertising generates more than 90% of Facebook and Google's revenue. Both the tech giants experienced a fall in global revenues (more than 10% decline compared to Q4 2019) due to a lockdown driven slump in Q1 2020 ad revenue. While Facebook's ads also faced advertisers' concerns over it overstating video ad statistics.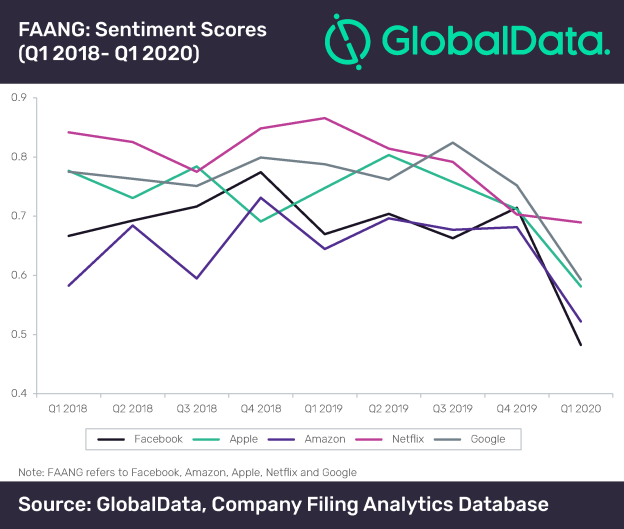 Amazon, despite seeing heightened demand during the pandemic, witnessed a 14% decline in revenues and a 17% slip in net income during Q1 2020. Covid-19 has forced the e-commerce giant to make changes to its business by focusing on essential goods and medical supplies.
Rinaldo Pereira, Senior Analyst at GlobalData, says: "Amazon is playing the long game by boosting inventories of essential goods and medical supplies, as it expects the impact of the contagion to continue through the end of 2020. While, Facebook and Google continued to invest in strategic cloud computing and video conferencing areas due a pandemic driven boom."
Amid a challenging business environment, Apple also suffered a 36% revenue decline (quarter-on-quarter) in Q1 2020 (ended March 28, 2020). The covid-19 pandemic caused a slump in IPhone sales during the quarter due to voluntary store closures. In Q2 2020, the company expects further weakness in the sales of iPhones and wearables.
Netflix saw a lower downturn in sentiments unlike the rest of FAANG due to 9% growth in subscribers during Q1 2020 as compared to the previous quarter. The company's sentiments were affected due to comments on a future decline in viewership due to the opening up of economies, and a negative free cash flow.
Pereira concludes: "The FAANG companies are primed to withstand the pandemic's impact, as e-commerce, cloud-computing, and video streaming & conferencing have kept the tech industry afloat during the crisis."