09 Jun 2020
Outsourced blockbuster drugs manufactured in Spanish facilities could significantly disrupt supply
Posted in
Pharma
As of mid-May, there were 131 contract manufacturing organizations (CMOs) in Spain with 161 Spanish sites, according to the GlobalData's Contract Service Provider database, which details the manufacturing relationships for novel products approved in the US and EU. The company found that the top ten outsourced drugs, by 2019 revenue, that are contract manufactured in Spanish facilities are blockbusters that could face significantly disrupted supply depending on COVID-19 infection rates and whether a second lockdown is imposed in Spain.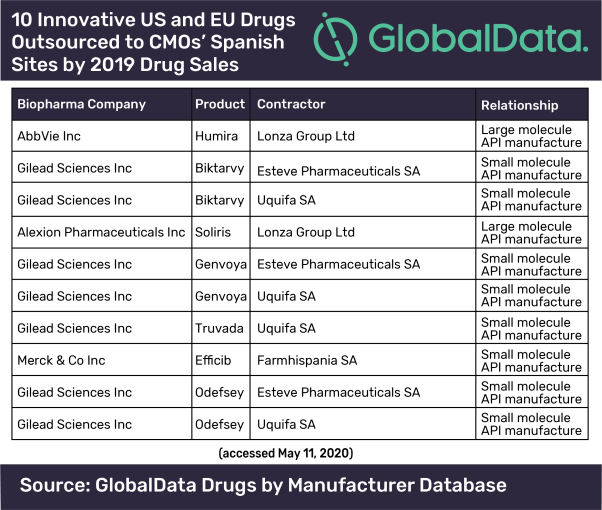 Adam Bradbury, PharmSource Analyst at GlobalData, comments: "A large number of these blockbuster drugs are also small molecule active pharmaceutican ingredient (API) manufacturing. Of the services performed at CMO sites in Spain, the vast majority of work is for small molecule API, which indicates Spain's lack of development of pharma contract manufacturing organizations (CMO) with biologics and dose manufacturing capabilities compared to the rest of the top EU markets. CMO sites in Spain have far fewer dose manufacturing relationships and overall outsourced products compared to Italy."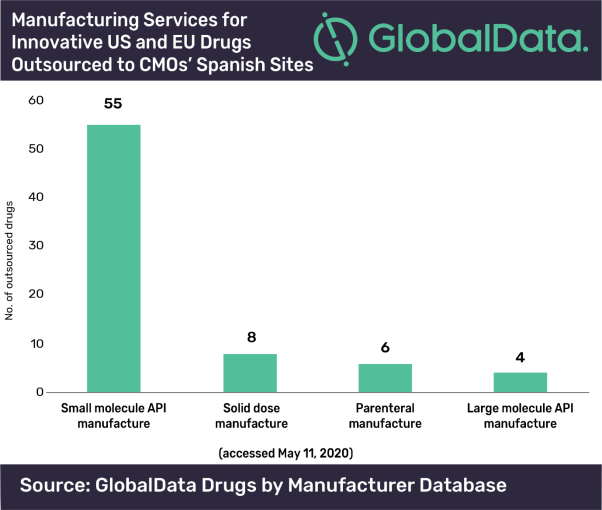 Bradbury continues: "Spain considers workers who are employed in pharmaceutical production – as well as healthcare, public transport, fuel and energy, security forces, law enforcement bodies and information technology and telecom services – to be essential workers and exempt from lockdown restrictions. Early in the pandemic, the Spanish Ministry of Health was given powers to temporarily occupy companies and services in the pharma sector and restrict them from selling to certain customers to ensure that the supplies needed for public health were available. Now that the infection rate and death tolls have dropped, the Ministry of Health is less likely to use these powers."
Recently, Spain's Government announced a four-phase plan to lift the lockdown by the end of June after the rate of infections and deaths in the country had slowed. This may help alleviate potential disruptions of the drugs manufactured in Spain, but if there are further outbreaks, supplies could once again be affected.